Corn germ oil, rich in essential vitamin E and unsaturated fatty acids, such as linoleic acid and oleic acid, which has protective effect on cardiovascular and cerebrovascular diseases. Corn germ is a kind of very good oil-bearing resource. In recent years, with the development of corn processing industry, such as starch, starch sugar and alcohol, corn germ oil has a faster growth in international market and has become one of the main varieties of edible vegetable oils in the world. In addition, corn germ oil can be used to make soaps or other industrial products. For small scale corn processing plants, distilleries, mills or grain warehouses, corn germ oil press is a good choice to squeeze oil from corn germ to add values of corn processing. (You may be also interested in other vegetable oil processing>>)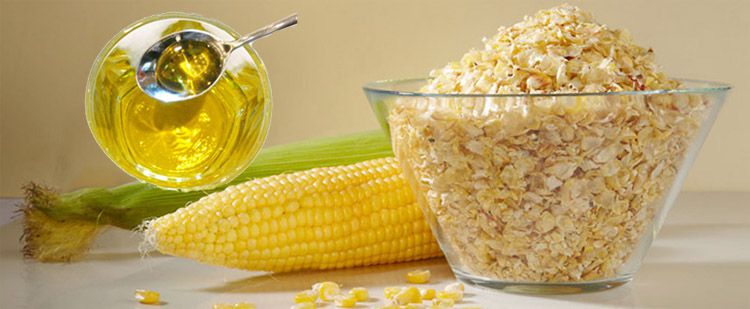 Corn Germ Oil Press at Factory Price
The screw corn germ oil press is one of the hot products of all our corn gern oil pressing plant machines. It is suitable for all scale corn germ oil pressing, especially small scale or medium scale type oil mill plants. Here, we provides various corn germ oil pressing machine at factory price for your choose.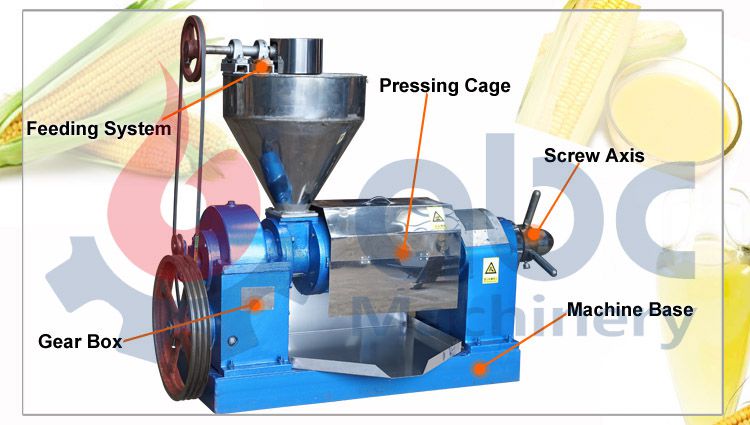 Corn Germ Oil Press Machine - Screw Type
Screw Type Corn Germ Oil Press Technical Data
Corn Germ Oil Press
Capacity
Power
Outline Dimension
Weight
YZS-85
60-80kg/h;
1.4-2 T/24hrs
5.5Kw
1200×400×900mm3
200kg
YZS-95
150-200kg/h;
3.5-5 T/24hrs
7.5-11kw
1600*700*1350mm3
530kg
YZS-105
210-300kg/h;
5-7 T/24hrs
15Kw
1825*700*1350mm3
550kg
YZS-128
300-375kg/h;
7-9 T/24hrs
15Kw
2000*600*1165 mm3
775kg
YZS-130
450-500kg/h;
10-12T/24hrs
18.5Kw
2010*800*1380 mm3
850kg
YZS-150
750-850kg/h;
18-20T/24hrs
30Kw
2180*790*1790 mm3
1380kg
Prompt Note: all the screw corm germ oil press machine is certificated with CE and ISO9001:2015. They are all of superior quality. If you are going to set up a mini, small or medium oil factory to produce corn germ oil, they are your BEST choice!
Corn Germ Oil Pressing Process

Small Corn Germ Oil Pressing Line
Like other vegetable oil processing, the first step of corn germ oil production process is to select or screen the corn germ to ensure the purity of corn germ. The second step is magnetic separation of magnetic metal particles to protect the corn germ oil pressing equipment. The third step is to adjust the moisture and temperature of corn germ within softening machines, such as cooker, to reduce its toughness. For better oil production rate, the moisture of corn germ is better controlled on 12%~13%. The step of softening is also to help break and destroy the cell wall for best oil output. And cooking can make the protein fully denatured and solidified, the oil drop agglutinate, the viscosity is reduced. Heat treatment is to adjust the temperature and moisture of raw corn germ and finally facilitate the corn germ oil squeezing. Then, the processed corm germ embryo is transported to screw oil press machine to squeeze oil out. Surely, in order to make edible corn germ oil, the refinery process is indispensable. If you want to know more information about corn germ oil refining, please see Edible Oil Refinery.
With years of experience in oil processing machinery, we are confident of our corn germ oil press machine. At the same time, our customers are also speak highly of our oil press machine. Choose us, it is not only favorable price, but also premium quality!
Request a Quote
We receive enquiries in English, Español (Spanish), Русский язык (Russian), Français (French) and العربية (Arabic).Our professional team will reply to you within one business day.Please feel free to contact us!