Contact us now to get customized project plan for both small and large scale safflower oil processing for FREE!
Safflower seed oil is obtained from the seed extracts of the same plant. It is a thistle-like, annual plant with limited cultivation worldwide. Safflower seeds have been used typically as dyes in the past, but in recent years they have been used for several purposes. The oil content of the seed varies from 15-20% to 30-35%, depending on the variety (species). The oil is a great substitute for other cooking oils from plant sources, which are largely less-healthy. Thus, Safflower oil is showing good market growth across the globe.
Setup a Safflower Oil Processing Plant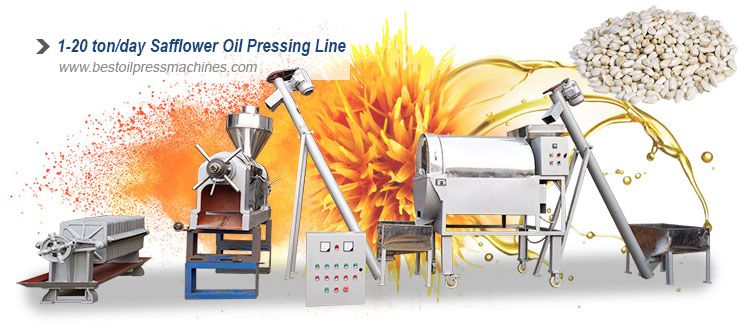 Small Scale Safflower Oil Pressing Line
If you are about to invest in safflower seeds processing business or want to start your own safflower oil processing plant to extract crude safflower seed oil or get the refined safflower oil, it is necessary to know about the main factors affecting the cost of investment and the basic process of seed oil extraction. (Recent News: Safflower Seed Oil Extraction Machine to Australia)
Safflower Oil Processing Plant Setup Cost
The cost to setup a safflower oil processing plant should cover many aspects, including the capacity, the oil manufacturing process, technology and machinery, the final using purposes and more. However, the above small cooking oil extraction mahchine set equipped with screw seed oil press is very suitable for expeller pressed safflower oil business of small scale due to the low cost, easy operation and high efficiency. You maybe also interested in how to start edible oil manufacturing plant in Pakistan.
Complete Safflower Oil Production Process
The machine and process involves in safflower oil processing plant is listed here for reference.
Safflower seeds should through the peeling process to remove the shell and get the kernels of safflower seeds. This this raw materials for safflower oil extraction. This process is same with sunflower seed oil or sesame seeds oil processing.
Raw materials may be cooked or steamed to control the temperature and moisture so it can be easily squeezed out of the oil.
Mechanical extruding force by the flaking machine make the raw materials into smallest pieces, which creates more favorable conditions for the safflower oil extraction process.
Using screw oil press or oil extraction machine to make the oil from the seeds to get the crude safflower oil.
Organic impurities contained in the crude oil can be removed with filter press or other oil filter machines.
This is an optional process, some of the safflower oil processing plant doesn't require the oil refining process, while, some will equip it. Oil refining is the deep processing of the safflower oil production. It is all decided by the final using purpose. (Related Equipment: Low Cost Mini Oil Refinery)
Why Choose Safflower Seed for Edible Oil Processing?
Using Safflower seed oil regularly as cooking oil can promote several health benefits. Read more about how to start small cooking oil factory here.
Improves heart health and lowers cholesterol
Helps control diabetes: Experts recommend that people may use high-quality dietary fats in combination with diabetes therapy to lessen the complications of the disease, particularly type-2 diabetes.
A good source of fatty acids: It contains a good amount of both mono- and poly-unsaturated fatty acids.
Safe for high-temperature cooking: No free-radicals (harmful) are generated due to overheating of Safflower seed oil. This is because the oil contains a high amount of heat stable oleic acid (fatty acids).
Other Benefits Apart from Edible Oil Production
Good for dry skin: The topical application of safflower oil to the inflamed and dry skin can contribute to a soothing effect, making it smooth and soft.
Controls inflammation: Safflower oil could also possess anti-inflammatory activities.
Request a Quote
We receive enquiries in English, Español (Spanish), Русский язык (Russian), Français (French) and العربية (Arabic).Our professional team will reply to you within one business day.Please feel free to contact us!