How much does a sunflower oil production machine cost? What reliable suppliers or manufacturers are available in the market? How much does it cost to invest in a sunflower oil processing plant?


Start Your Own Profitable Sunflower Oil Milling Factory Business
Sunflower seed oil is the raw material for sunflower oil pressing/extraction, with an oil content of about 30-48%, which is a high oil content oil-bearing crop. Whenever you want to start a sunflower oil factory, the project cost must be your biggest concern. Actually, your production budget should depend on the production scale. Before choosing the equipment for your oil mill plant, you should be clear of what kind of oil you want to extraction, crude oil or refined oil, bulk or bottled.
[Must Know] Sunflower Oil Production Cost Analysis
The cost of setup cooking oil business is closely related to many factors such as oil mill capacity, process design, equipment selection, factory layout, automation degree of the production line. The bulk of the startup capital will be spent on leasing or acquiring a facility and also in purchasing oilseed oil extracting and processing machines. You are also expected to spend much on the purchase and servicing of distribution trucks, paying your employees, and settling utility bills.
Site Planning of Sunflower Oil Production Line
Starting a small sunflower oil mill requires a certain amount of space, and you can save on space costs if you have your own vacant plant, if not you will need to consider rental or purchase.
Selection of Sunflower Oil Machine
There are two kinds of processing technology of sunflower oil production, one is pressing, the other is solvent extraction. Screw pressing/expelling should be your first choice when starting a small-scale sunflower oil plant, while for industrial scale oil mill plant, prepressing & solvent extraction process is recommended. The main equipment for making sunflower oil is screw oil press. In addition, you can choose whether you need a matching steaming machine according to your specific situation and funds.


Small/Middle Sunflower Oil Pressing Machine and Small/Mini Solvent Extraction Equipment
ABC Machinery is a reliable oil mill machine manufacturer with more than 25 years' experience, offering high-quality equipment and professional technical support for you. If you have any questions about sunflower oil processing, please feel free to contact us.

Other Financial Inputs
The later production cost of sunflower oil production line mainly includes the labor cost, water cost, electricity cost and transportation cost. You need to consider the factory size, the number of workers and the market scale to determine the cost of this part. When we invest in the construction of sunflower oil processing plant, we mainly consider the above factors and plan as early as possible to save investment cost.
Small Scale Sunflower Oil Making Machine Price List for Reference
Sunflower oil processing equipment plant is formed by interconnecting many different individual machines. As each customer requires different quality sunflower oil, the configuration and specifications of the sunflower oil production machine are often different. A complete cooking oil milling plant usually includes main oil extraction machine and several auxiliary equipment such as cleaning, conveying, and temporary storage.
Machinery for 5~10TPD Sunflower Oil Pressing Plant

Reference Price

Seeds Cooker

$1,000.00

Small Sunflower Oil Expeller

$1, 600.00

Oil Filter Press

$1, 400.00
Other Auxiliary Equipment (Cleaning Machine, Elevator, Spare Parts, etc. )
$3,500.00

Total

$7,500.00
Remark: Above mentioned price is just for reference only, for exact cost, please contact our engineers to get detailed cost and machine specifications.
If you want know more about bottling and oil filling machines, check Automatic Oil Filling and Capping Projects we built.



Commercial Mini Sunflower Oil production Line
Why some sunflower oil processing machine price is high?
Notice: Some costomers only need the simplest configuration, so the price is cheaper, which is also the reason why the same capacity of sunflower oil production line can sometimes vary greatly in price. Therefore, when you consult with ABC Machinery, we will give you a detailed price list for reference as above. So that it is also convenient for you to calculate the price when adding or removing equipment. Only under the same configuration, the price of the complete sunflower oil mill plant is comparable.
Sunflower Oil Production Process Design
The start-up cost of sunflower oil production plant is closely related to process design. And the process design is generally based on processing capacity, plant layout, automation degree of production line and other factors.
Oil Seeds Selection and Shelling: screen the harvested sunflower seeds to remove the impurities, next, peel the shells of the sunflower seeds and separate the shells from the sunflower kernels to obtain the pure sunflower kernels.
Roasting: roasting the sunflower kernels to regulate the temperature and humidity of sunflower seeds as well as their internal structure in order to improve the oil yield.
Oil Pressing: pressing the roasted sunflower kernels, squeezing out the oil drops under pressure and separating the sunflower meal to obtain crude oil.
Oil Refining Process: including processing steps of degumming, deacidification, decolorization and deodorization, which can make the grease clear and translucent with no strange smell.
The whole sunflower oil manufacturing process doesn't use chemical solvents and doesn't contain chemical preservatives and antioxidants to avoid chemical contamination of oil products, which fundamentally ensures the safety and nutrition of the oil and improves the yield of the refined oil.


Complete Sunflower Oil Manufacturing Process Flow Chart
ABC Machinery has been a reliable manufacturer of sunflower oil processing equipment for many years. The configuration of sunflower oil processing plant can be customized according to the customer's production needs offer from about $7500. (Know more information about edible oil production equipment >>)
Global Sunflower Oil Production Is Set to Hit Record High
Global sunflower oil production has been on an overall upward trend in recent years. According to the USDA's forecast data, global sunflower oil production will rise by more than 15% in next year. In addition, under the current background of tight supply and demand in sunflower oil market, the price of sunflower oil will rise steadily. Therefore, it may be a good choice to buy sunflower oil extraction machine to carry out business. We can also supply a suitable business plan design for you.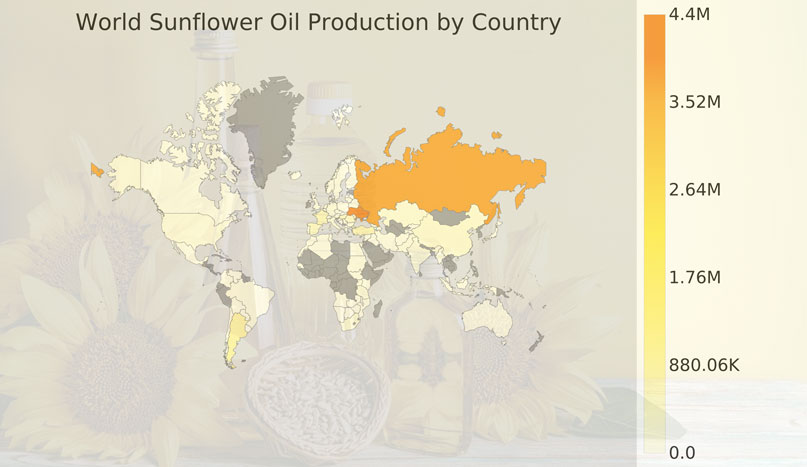 World Sunflower Oil Production by Country
Sunflower Oil Market in Ukraine
The significant increase in sunflower seed exports is due to a change in the structure of Ukrainian exports. The domestic power supply crisis affecting edible/cooking oil pressing plant operations has prompted Ukraine to change its export focus from sunflower products (oil and meal) to raw materials (sunflower seeds) in 2022/23. Preliminary forecasts show Ukraine will export 2.7 million tons of sunflower seeds in 2022/23, well above the 100,000 tons in 2021/22 and the 200,000 tons in 2020/21. Oil World said Ukraine's sunflower seeds are mainly exported to Bulgaria, Romania, Hungary and Turkey, which will bring EU sunflower seed imports to 2.2 million tons in 2022/23, doubling year-on-year.
Sunflower Oil Market in KZ(Kazakhstan)
The weighted average price of sunflower seeds on the KZ(Kazakhstan) market is on an upward trend, rising by more than 55%. This indicator clearly makes a significant positive contribution to the economy of agricultural producers. After February 24, the world market for sunflower oil saw its prices increase by 59%, reaching $2000 per ton from March to June, while the Kazakh market did not show the same significant increase in the selling price of refined sunflower oil. The slight upward trend in sunflower oil refining prices is related to the increase in sunflower seed prices, as the share of seeds in the cost structure of finished products exceeds 80%. It is possible to avoid sharp fluctuations in sunflower oil prices in the domestic market due to the increased load on domestic refineries and the possibility of selling processed products for export at more attractive prices.
Request a Quote
We receive enquiries in English, Español (Spanish), Русский язык (Russian), Français (French) and العربية (Arabic).Our professional team will reply to you within one business day.Please feel free to contact us!