What is Almond Oil? What is Its Functions besides Eating?
Almond oil is an edible oil or essential oil extracted from almonds. It can be used as a food or as a skin care product. Almond oil, yellowish transparent, fragrant, is not only an excellent cooking oil, but also a high-grade lubricating oil, can withstand low temperatures below -20°C, can be used as an important raw material for advanced paints, cosmetics and high-quality soaps. It also extracts flavors and vitamins. Almond oil is rich in protein, unsaturated fatty acids, vitamins, inorganic salts, dietary fiber and trace elements needed by the human body. It has the functions of moistening the lungs, strengthening the stomach and replenishing vitality. Its amygdalin is a natural anticancer active substance.

What is Automatic Almond Oil Press?
Automatic almond oil press is new type screw oil press machine that is designed with automatic temperature controlling cabinet and oil filtration device. The whole automatic oil press is mainly composed of feeder, pressing cage, heat and temperature electric control cabinet, air compression filters and more. It proven design can greatly improve the oil yield while saving energy. Automatic almond oil press combines oil pressing and oil filtration into one oil machine, which makes it great choice for those who start oil making workshops in country sides or has small scale oil mill plant, enabling them to lower the cost of almond oil production. (You may also like black seed oil press machine >>)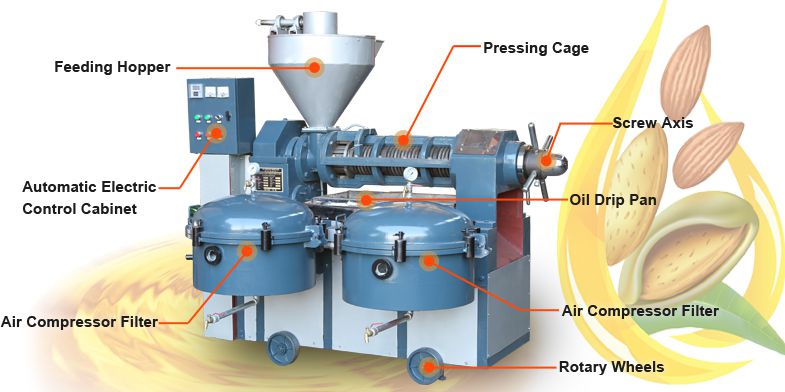 Technical Parameters of Automatic Almond Oil Press Machine
| Model | Capacity | Power | Weight | Dimension |
| --- | --- | --- | --- | --- |
| YZS-95A Oil Press | 150-200kg/h | 15.8kw | 910kg | 1900*1300*2000mm3 |
| YZS-125A Oil Press | 210-300kg/h | 20.4kw | 950kg | 2100*1300*2000mm3 |
| YZS-128A Oil Press | 300-375kg/h | 20.4kw | 1200kg | 2000*1400*1950mm3 |
| YZS-130A Oil Press | 450-500kg/h | 23.9kw | 1300kg | 2250*1450*2050mm3 |
In addition to almond oil, YZS series automatic oil expeller machine is also suitable to squeeze oil from other oil-rich seeds or plants, including pine nuts, cashew nuts, walnuts, hazelnut, peanuts, palm kernel nuts, sunflower seeds, black cumin seeds and more.
Features of Automatic Almond Oil Machine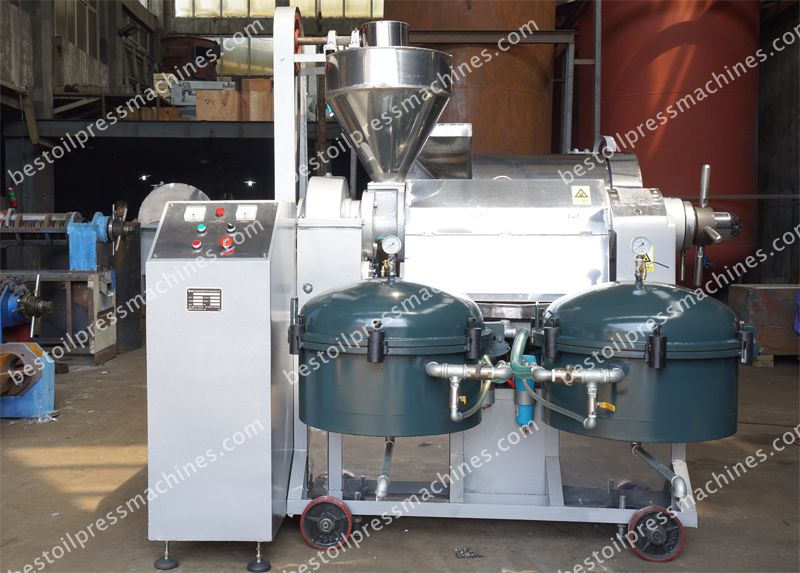 Automatic temperature controlling is capable of hot and cold extracting
Compact size with mufti-functional oil extracting processes, oil extracting and oil purification
High profit return automatic machine eliminates worries in almond oil making business
Small land space, easy operation, less maintenance, movable wheels are all user-concentrated
Suitable for individual oil workshops or small scale oil mill plant
Wide applicable for various vegetable oil-bearing seeds and oil-rich plants
Buy almond oil press machine from ABC Machinery would save your money and ensure the final results. Please find more information by emailing us directly!
Request a Quote
We receive enquiries in English, Español (Spanish), Русский язык (Russian), Français (French) and العربية (Arabic).Our professional team will reply to you within one business day.Please feel free to contact us!