Small Castor Oil Extraction Machine for Sales
ABC Machinery
offers various types oil extraction machine for the castor oil processing, including
Single Screw Oil Press
,
Automatic Oil Press
and
Auto-temperature
Control Oil Press
. All of our machine is built with high quality steel and is especially efficient in oil pressing, which makes it the most popular equipment in commercial
castor oil processing plant
.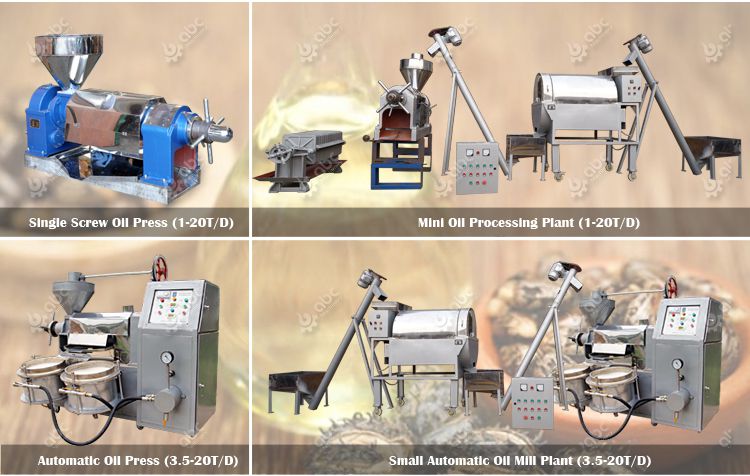 Hot Sale Small Castor Oil Extraction Machine for Sales
In addition, these machine are also widely used to process other oil-seeds, including soybean, palm kernel, peanut/groundnut, sesame seed, mustard seed, rapeseed and more.
Small Castor Oil Extraction Machine Orded by Bangladesh Customer
This YZS-68 Small Castor Oil Extraction Machine was ordered by one of customer from Bangladesh. Except for Oil Press Machine, he also ordered a Mini Oil Filter Machine. Since his raw material is dehulled castor seeds, he only required oil press machine and oil filter machine for his small size castor oil processing. He visited our factory and other supplier, attended the 125th Canton Fair that held in Guangzhou, China. But, in the end, he chose us, ABC Machinery, due to the high quality of equipment and considerate service.
| Model | Capacity | Power | Dimensions | Weight |
| --- | --- | --- | --- | --- |
| YZS-68 Castor Oil Press | 0.8-1T/24H | 5.5KW | 920*390*750MM | 150KG |
| Z26 Mini Oil Filter Machine | 85-100KG/H | 0.55KW | 900*410*750MM | 430KG |

Commercial Castor Oil Extraction Method & Process
Generally, the oil content of castor oil seeds is about 30%~50% based on different variety. Typically, there are three methods for castor oil extraction
1) Mechanical Pressing - Oil Press
2) Solvent Extraction - Hexane
3) Combination of Mechanical Pressing and Solvent Extraction

Castor Oil Extraction Process
Below takes the mechanical pressing method as an example to explain the detailed castor oil extraction process, which is more suitable for small to medium scale castor oil manufacturing plant.


5~30TPD Small Castor Oil Extraction Plant - Mechanical Pressing Method
Castor seeds should be dried after being harvested. Dry castor bean can be split from the hull easily by professional dehulling machine to get the castor oil seeds.
Dehulled castor seeds are cleaned to get rid of all the organic impurities, like sticks, stems, sands, dirt and more. Also, the iron should be removed out from the castor seeds.
Clean castor seeds then are heated or cooked to remove the moisture, which is very important process before oil extraction since it helps to improve the oil yield.
Screw oil press is adopted to press the castor seeds and the oil is released out. The castor oil press machine expeller is a high-pressure continuous screw press to extract the oil.
Castor oil directly get from the screw oil press contain many impurities, the filter machine can greatly remove the organic impurities and make it more clear.
Oil refining machine is to remove the impurities such as colloidal matter, phospholipids, excess free fatty acids (FFAs), and coloring agents. The castor oil refining process steps include degumming, neutralization, bleaching, and deodorization. The refined castor oil has a long shelf life about 12 months as long as it is not subjected to excessive heat.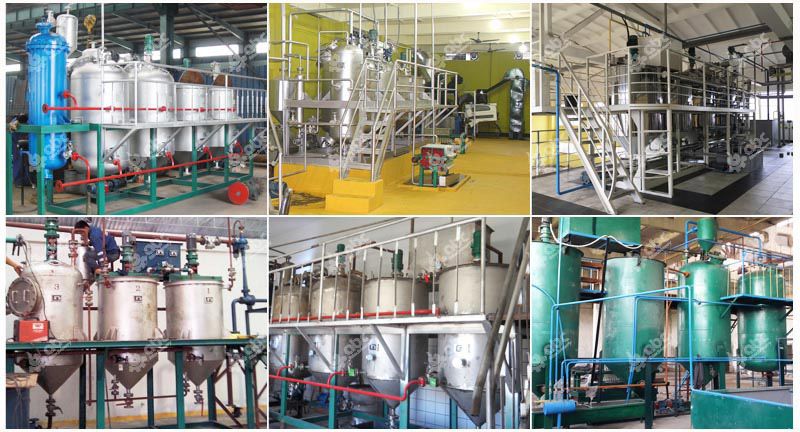 1~20TPD Small Castor Oil Refinery Machine
Request a Quote
We receive enquiries in English, Español (Spanish), Русский язык (Russian), Français (French) and العربية (Arabic).Our professional team will reply to you within one business day.Please feel free to contact us!