In recent years, people's demand for daily cooking oil is becoming higher and higher. More and more people are no longer satisfied with ordinary quality pressed cooking oil, but need healthier refined cooking oil with better taste. Refined edible oil is clarified without impurities, not only has a beautiful visual effect, but also high economic value. (Read more: Cooking Oil Processing Machine >>)


Start Edible Oil Business
Edible oil refining refers to the process of removing impurities, extracting essence and purifying crude oil with oil refinery machines. Impurities in unrefined edible oil mainly include cake crumbs, colloidal impurities, free fatty acids, pigment and odor substances. The purpose of refining is to effectively filter and precipitate crumbs, colloidal impurities, free fatty acids, pigments and odors contained in the crushed or leached crude oil, in order to improve the edible value and market value of the edible oil. (Read more: Edible Oil Plant Cost >>)

Cooking Oil Refining Machines to Nigeria for Canola Cottonseed Groundnut Oil Production
In order to meet the market demand, one of our customers in Nigeria decided to expand his cooking oil mill plant by adding the edible oil refinery plant. He already have a 150tpd oil pressing plant that is mainly used to produce cottonseed oil, groundnut oil and rapeseed oil. And now he bought a 50tpd cooking oil refining machine for his factory. (You may also like: Where to Find Groundnut Oil Press Machine in Nigeria?)
Belows are some details about this new oil refinery project that will be set up in Nigeria.
Capacity: 50 tons per day
Crude Oils to Process: cruder canola oil, crude groundnut oil, crude cottonseed oil
Main Oil Refining Process: degumming, deacidification, decolorizing and deodorization
Main Equipment: Crude oil filter, oil-oil heat exchanger, Phosphoric acid reactor tank, Alkali liquid tank, Centrifuge disc wash tank, Bleaching earth dosing system, Decolorizing tower, Bleached oil pump, Bleached oil tank, Deacidification and deodorization tower, Deodorized oil pump, Polishing filter, cooling tower, thermal oil furnace, team boiler
Canola Cottonseed Groundnut Oil Refining Machinery at Factory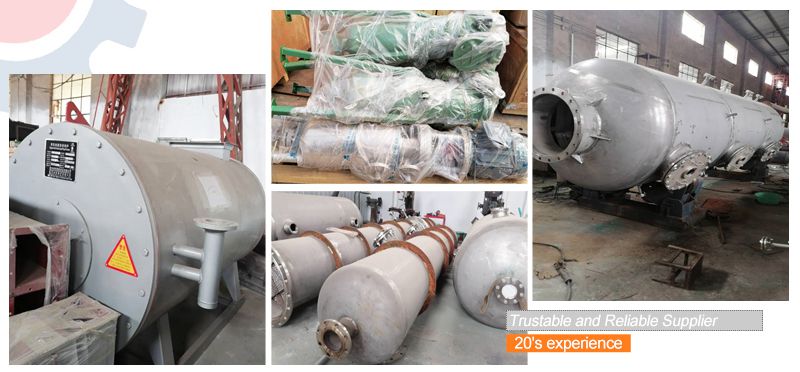 50TPD Cooking Oil Refinery Machines to Nigeria

Choose Professional Oil Refinery Plant Project Manufacturer
ABC Machinery has been engaged in oil mill machinery industry for at least twenty years. The first large scale oil processing plant we undertook is a 100TPD soybean oil mill plant project set up in Zambia. With these years development, our oil extraction machines and oil refinery machine has been exported to many regions at low cost, including Jamaica, Mexica, America, Kenya, South Africa, Philippines, Thailand, Russia, etc. And we haved helped many small scale farmers, businessman and investors achieved their aims and plans to make money from cooking oil business. See more at oil mill projects setup by ABC Machinery.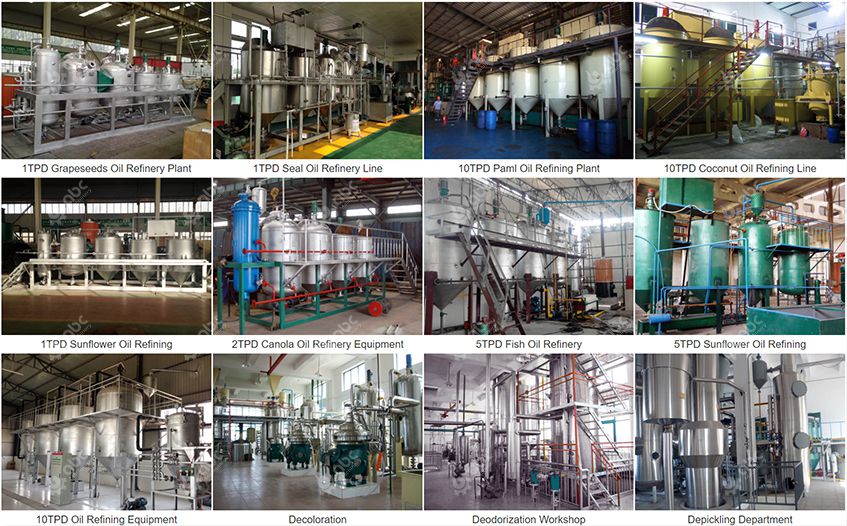 Reliable Crude Oil Refining Project Supplier
If you are interested in getting more infomation about the cost, equipment list, project design, installation instructions and more, just contact us and our engineers will be very happy to share with you our project report on various crude oil extraction and refining.
Canola Cottonseed Groundnut Oil Refining Process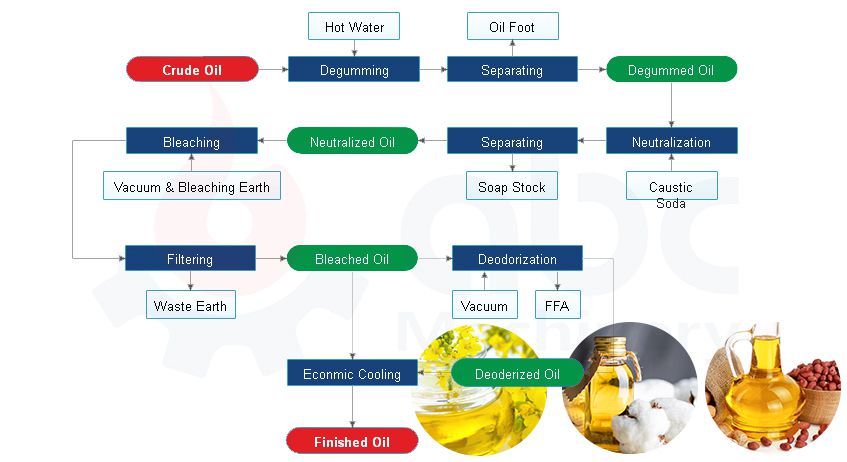 Degumming is to make use of the hydrophilicity of colloidal impurities phospholipid. When adding hot water in the hot crude oil, under the action of stirring, the colloidal impurities absorb water and condensate, after static precipitation to release the colloidal.
After acid-base neutralization reaction, lye is added to the deacidification equipment to remove free fatty acids.
The decolorization stage is carried out in the decolorization tank. Pigment and other impurities in the crude oil are removed by clay adsorption, and the waste clay is filtered through a leaf filter to achieve decolorization.
Stripping deodorization process is adopted, direct steam is introduced into the deodorization equipment, the temperature of deodorization oil is raised to 260℃, and the purpose of deodorization is achieved by using the different volatiles of crude oil and odor substances.
After the above four treatments, the refined edible oil has pure color and mellow taste, and all components are in line with national standards. It can be sold directly in the market, or it can provide raw materials for highly processed products. If you are considering buying oil refining machine for your business or your factory, we believe ABC Machinery is definitely your best supplier.
Request a Quote
We receive enquiries in English, Español (Spanish), Русский язык (Russian), Français (French) and العربية (Arabic).Our professional team will reply to you within one business day.Please feel free to contact us!