Shea nut is the fruit of African shea tree. Like avocado, shea nut has delicious flesh. The fat contained in the kernel of shea nut is shea butter, which takes up about 40% ~ 55%. Each mature shea tree produces only 15 to 20 kilograms of shea per year, which can only survive on the African continent due to climatic and plantation reasons. (Read more: Cooking Oil Machine for Sale in South Africa >>)


Shea Butter Extraction Technology
Shea butter has three colors: ivory, beige and yellow. The darker the color, the better the effect. More than 90% of shea butter is supplied to the world's major cosmetics companies, such as international famous cosmetics companies L'Oreal Paris, Doublebaby, DHC, The Body Shop, Swiss Legend, etc.
In countries where shea tree is planted, setting up an oil mill plant to produce high quality shea butter would be profitable since the high value of shea butter and its wide applications in cosmetics, food, medicine and etc. ABC Machinery has developed into one of the largest cooking oil press machine supplier in China. For shea butter extraction, we provide different oil extraction technologies and equipment to meet different requirements. If you are interested in shea butter oil processing, here is what you need.
Low Temperature Shea Butter Oil Extraction – Hydraulic Oil Press
Hydraulic oil press machine has many features, like simple structure, high quality oil cake, less energy consumption, so it has been widely used to process shea butter. The main equipment for shea butter oil extraction plant by hydraulic oil press: conveyor, crushing machine, conditioning machine, hydraulic oil press, cake crusher, plate and frame oil filter, etc. If you are interested in buying the hydraulic oil press machine for your shea butter oil processing business, just contact us directly to get the machine parameters and price list!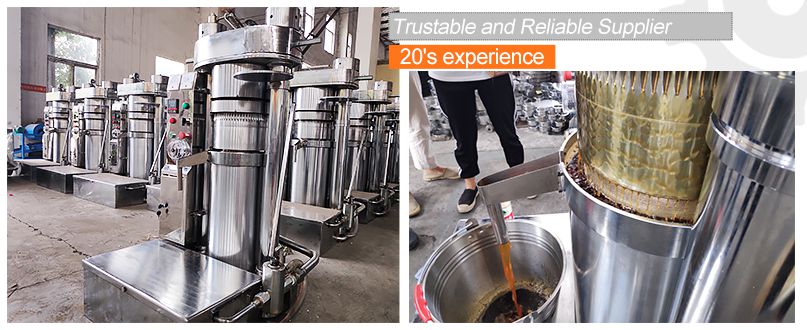 Cold Pressing Shea Butter Oil Press Machine
The shea butter oil extraction process

Shea Butter Cold Oil Pressing Process
The fine particle powder (35 ~ 40 mesh) of crushed kernel was tempered (60℃ ~ 70℃) to adjust the squeezed moiture not more than 5%. Then, the flaked cake (5 ~ 7kg for each flaked) was pressed for the first time (pressure 40 ~ 50mpa, temperature 60℃ ~ 70℃), and the residual oil of the virgin flaked cake was 28% ~ 32%.
According to the above process requirements, the virgin cake was broken, tempered and repressed, and the residual oil of the repressed cake was 18% ~ 23%. Repeat for the third and fourth time to press, the final pressed cake residual oil 10% ~ 13%.
The shea butter (impurity) is obtained from the low temperature hydraulic press after heat preservation and precipitation and then filtered at 60℃ ~ 70℃. It can be seen from the process of hydraulic pressing that the oil is relatively clear, the crude oil is of light color, the crude oil is of good quality after rough filtration, the acid value, peroxide value and other indicators meet the requirements, the cake color is also relatively light and there is no sign of deepening.
Therefore, the subsequent physical refining only needs to carry on the fine filtration and the fine filtration under the heat preservation state of 60℃ ~ 70℃ to obtain the finished product refined shea butter. (Read more: Oil Filter Machine Price >>)

Buy BEST Shea Butter Oil Extraction Machine
Shea butter oil extraction technology – factory price shea butter oil extraction machine for high quality shea butter oil making: buy shea butter oil extraction machine from oil mill machinery manufacturer or supplier at factory price, get FREE technical instruction of shea butter oil production process and business plan to set up shea butter oil extraction plant project in Uganda, Guinea, Senegal and Nigeria, etc., at low cost.
Screw Oil Pressing for Shea Butter
Screw oil pressing is the most widely used vegetable oil extraction method. It also can be used to extract shea butter oil from the shea nut. The advantage of shea butter oil extraction technology by screw pressing method has large production capacity, high oil output, and continuous oil production. However, the color of oil and oil cake is deep and too many impurities in the oil, so, it requires oil refining process.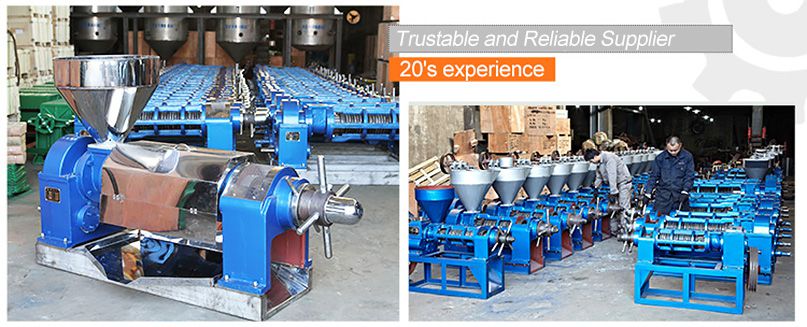 Shea Butter Oil Press Machine
Shea Butter Oil Pressing and Refining Process

Shea Butter Oil Production Process
Shea Nut Production in Africa
| Country | Production |
| --- | --- |
| Nigeria | 361,017 tons |
| Mali | 75,000 tons |
| Burkina Faso | 45,183 tons |
| Ghana | 33,878 tons |
| Cote d'lvoire | 31,492 tons |
| Benin | 14,366 tons |
Request a Quote
We receive enquiries in English, Español (Spanish), Русский язык (Russian), Français (French) and العربية (Arabic).Our professional team will reply to you within one business day.Please feel free to contact us!