This article will start from scratch to explain how a oil mill plant is prepared to build, including project preparation, technological process selection, site selection, functions design, equipment selection, license processing, etc. This article focuses on the procedures of oil mill plant setup. For different raw materials and conditions, the rationality and operability should be adjusted accordingly. (Read more: Oil Mill Plant Project Cost >>)


Build Oil Mill Plant from Scratch
How to Build Oil Mill Plant from Scratch?
There are many preconditions for establishing a food production factory, involving the approval and supervision of more than a dozen departments. Different countries have different requirements and specific conditions. In China, for example, building a oil mill plant requires industrial and commercial registration, land, planning, safety and environmental assessment before it can start.
Product Selection and Process Selection
Before setting up a factory, it is very important to make sure the product. It can be decided by market analysis, raw material analysis, sales analysis and so on. It should not blindly enter unfamiliar industries.The operation of the enterprise is risky. This article takes the raw material, sunflower seeds, as an example to setup a complete oil mill plant that produce 5L loaded sunflower seed oil. (Read More: Sunflower Oil Processing Plant >>)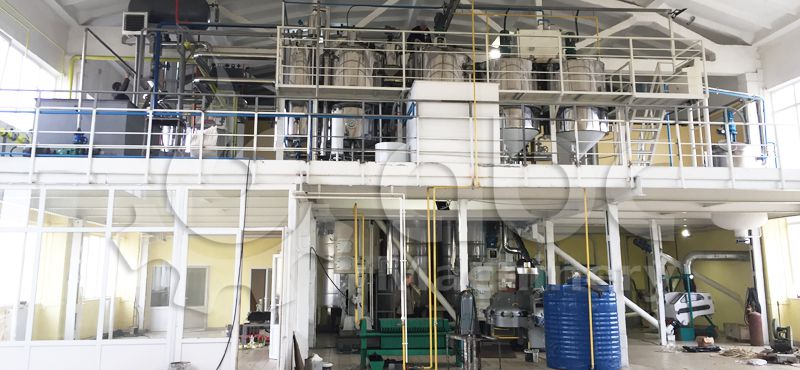 Complete Oil Mill Plant to Produce Sunflower Oil
► Related Article: What Seeds and Nuts are for Vegetable Oil Processing?
Oil Mill Plant Build Steps

Location and Plant
The vegetable oil mill plant should be built in areas free from harmful gases, soot, dust, radioactive materials and other spreading pollution sources. The plant should be designed reasonably to meet the requirements of the production process, and the places with different natures of enterprises can meet their own production requirements. The roads in the factory should be hardened to prevent dust and water accumulation. Plant greening should be kept at a proper distance from the production workshop, and vegetation should be maintained regularly to prevent the breeding of pests. The living area should be kept at a proper distance or separation from the production area. (Related Article: Vegetable Processing Plant Layout >>)

Basic Flow of Oil Production Process
Cleaning, frying, pressing, refining, filling and packing. Cooking Oil Refining Process is a relatively complicated process compared to other oil production process.


Basic Flow Chart of Vegetable OIl Production
Interfunctional Settings and layouts
According to the production process, the functions are divided into the following: raw material warehouse, frying workshop, pressing workshop, packing warehouse, dressing room, packing room and finished products warehouse. According to the function of each function, according to different health control requirements, distinguish between general operation and clean operation area. Raw material warehouse, packaging material warehouse and finished products warehouse are general operation areas, which are not under high control. The frying workshop is between general operation area and clean operation area, which belongs to the link part, while the pressing workshop and packaging workshop belong to clean operation area.
According to the process, the layout of the function room is designed, but there are still some places that need to be adjusted according to the actual situation. The first is to clean and fry in a workshop, frying process needs to consider the fuel alone; Secondly, the oil residue storage and pressing workshop should be closed in time connection door, so generally set buffer storage; Secondly, it is the packing material warehouse. The inner packing materials are generally placed separately from the outer packing materials. The inner packing materials generally belong to the clean packing and can be set up separately. Thirdly, there is no separate semi-finished product storage tank and finished oil storage tank, because most vegetable oil is connected by pipelines, without contact with the outside world. Finally, there is no set between the washing, vegetable oil pressing workshop is generally greasy, so the cleaning work is an important part of the health protection.

Production Equipment
Cleaning and Sieving Machine, Cooking or Frying Machine, Oil Press Machine, Oil Refining Machine and Other Auxiliary Equipment. All oil production machine and equipment provided by ABC Machinery is guaranteed with factory price and high quality!


Oil Mill Plant Equipment at Factory Price
Project Building and Equipment Installation
Most the oil processing machine manufacturer or supplier will offer the equipment installation service, but, it is also very important to communicate with your supplier to ensure the actual size for the oil mill plant. You can have a referece about the oil mill plant built by ABC Machinery in PROJECT.
Above is the detailed step about how to build an oil mill plant from snatch. If you are also interested in it or the specific equipment and machine, please contact us for more the detailed product price list!
Request a Quote
We receive enquiries in English, Español (Spanish), Русский язык (Russian), Français (French) and العربية (Arabic).Our professional team will reply to you within one business day.Please feel free to contact us!