What is Prickly Pear Seed Oil?
Prickly pear seed oil, also called cactus seed oil, is very valuable oil that is extracted from prickly pear seeds. It is rich in vitamin E, linoleic acid, omega 6 and more. Its tocopherol content is the highest among all the oils. Therefore, prickly pear seed oil also has the properties of strong antioxidant and free radical scavenging. The yield of prickly pear seed oil is very low, generally, 1/2 ton of the fruit of prickly pear may produce one liter of oil. Prickly pear seed oil can be absorbed by the skin easily and completely, as a result to maintain the moisture of skin. It has been approved that prickly pear seed oil has great impact in the skin care. (You may also like Almond Oil Making Machine >>)

Prickly Pear Seed Oil Press Machine
Screw Oil Press is idea machine for prickly pear seed oil extraction. It is mainly composed of feeder, gear box, pressing cage, screw shaft and machine stand. Prickly pear seed oil press expeller makes use of the screw shaft that is installed with different styles of screws and keeps rotation when the machine is running and then push the raw materials into the pressing chamber. Owing to the spiral helical pitch of screws becomes shorter and the spiral depth of screw becomes shallower, in the chamber, the volumes between screws and pressing ring inner is smaller, pressure produced from curve saw-tooth of pressing ring inner, which oil is separated out. Oil released from the gaps between pressing bars and oil slots between pressing rings.

Prickly Pear Seed Oil Press Machine Structure
Screw Prickly Pear Oil Press Machine Technical Data

How to Make Prickly Pear Seed Oil?
Step 1: Pick up the prickly pear fruits
Step 2: Peel off the flesh from prickly pear fruits and get prickly pear seeds.
Step 3: Select the prickly pear seeds, then sort and dry it for next step
Step 4: Extract oil from prickly pear seeds by oil press machine. Approx. 450 kg Pulp are required for the production of 1 liter prickly pear seed oil.
Step 5: Filter and purify the oil, and then fill and bottle the prickly pear seeds oil

Actually, prickly pear seed oil is the most expensive beauty oil due to the low yield, high labor cost and production cost. But, the demand of prickly pear seed oil or the products that contains prickly pear seed oil is increasing quickly and largely. Additionally, more and more cosmetic companies has turn the attention on its amazing properties.
Prickly pear seed is produced in the south of Morocco. Due to low yield, high cost and high technology requirement, prickly pear seed oil is rarely produced in other cities of Morocco except Agadir (Agadir). At present, prickly pear seed oil is a new kind of all-effect base oil favored by European and American people and non-chinese people after Morocco nut oil. Therefore, starting professional Oil Mill Plant to produce high quality prickly pear seed oil would be very profitable business. If you are interested in have a small scale professional prickly pear seed oil processing plant, please contact us to get the latest technical data and price list.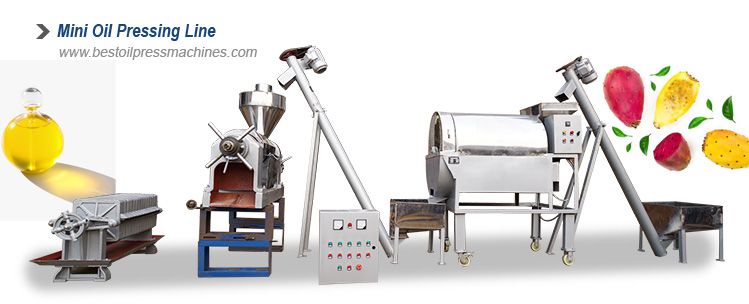 Small Prickly Pear Seed Oil Mill Plant (5~20T/D)

Factory Price Oil Extraction Machine for Prickly Pear Seed Oil at Factory Price
Request a Quote
We receive enquiries in English, Español (Spanish), Русский язык (Russian), Français (French) and العربية (Arabic).Our professional team will reply to you within one business day.Please feel free to contact us!