Grape Seed Oil: Health and Beauty Benefits
Grape seed oil is mainly extracted from grape seeds, which are by-products of the winery's winemaking process of pressing grape juice. Grape seeds have a high oil content, reaching 13% to 15%. Grapeseed oil is a high-nutrition vegetable/edible oil that is rich in linoleic acid and has a high nutritional value.


Reliable Grapeseed Oil Extraction Equipment Manufacturer & Supplier
In recent years, organic grape seed oil has gradually occupied the edible oil market and is favored by the majority of consumers, with huge market potential. Therefore, to setup a grapeseed oil processing plant business is a profitable choice. (See this article for more related content: how to start a small scale cooking oil business >>)
If you want to have a systematic understanding of the grape seed oil production or have an interested in investing in a grape seed oil factory, feel free to reach out to us.
Cold Pressed Grape Seed Oil Press Machine
The cold press hydraulic oil press produced by ABC Machinery has many specifications and sizes, and various models can meet the needs of different customers. ABC Machinery is a professional manufacturer/supplier of grape seed oil extraction machine, can provide different hydraulic grape seed oil press machines according to your expected output. (Other Related Article: small single screw oil press)
Model
Capacity per Batch(KG)

Diameter




of Oil Tank (MM)

Diameter




of Oil Cake (mm)

Height




of Material Hopper (mm)

Working




Pressure (T)

Material




Pressure(Mpa)

Dimensions(MM)
Weight(T)
Power(KW)

6YY-190

8
190
235
400
170
41
1000*970*1420
1.05
1.5

6YY-220

10
220
248
470
227
47
1150*1000*1600
1.4
1.5

6YY-220B

12
220
270
470
227
40
1180*1000*1600
1.45
1.5

6YY-270

15
270
300
465
343
48.6
1200*1150*1550
1.6
2.2

6YY-270B

20
270
339
465
343
41
1250*1200*1550
1.68
2.2

How Does A Grapeseed Hydraulic Oil Press Work
The vertical hydraulic oil press has 1 cylinder fixed on the base, and the cylinder is equipped with a cylindrical piston, the upper part of which is connected to the bearing tray as a whole. The billet is pre-pressed into a round cake, covered with a cake ring, and 20 to 40 round cakes are stacked between the carrier tray and the top plate. The two cakes are separated by a thin plate with holes, which drives the piston upward, generating pressure and squeezing the cakes to produce oil. After pressing, the oil pump stops pressurizing, the piston drops, and after unloading the residue grape seed oil cake, the grapeseed is reloaded and pressed for oil. This repeatedly intermittent oil extraction, each time it takes about 2 to 5 hours.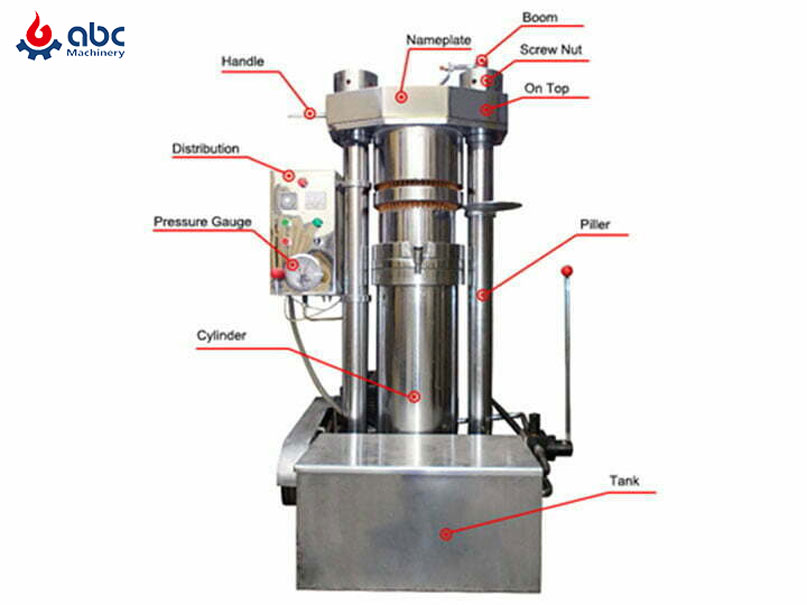 Cold Pressing Hydraulic Oil Press Machine with Compact Design
Advantages of Hydraulic Grape Seed Oil Press Equipment
Pure physical grapeseed oil extraction: The oil extraction process is 100% physical, so the organic components and nutrients in the grape seeds are not damaged or destroyed.
Can bring lucrative returns in the short term: Hydraulic oil extraction machine;have a short payback period because of the high quality oil they press.
High quality pressed grapeseed oil: The cold pressing process maintains pure physical pressing and a constant temperature, preserving the nutritional value and unique flavor of grape seed oil.
Easy and efficient operation: High level of automation and mechatronic design allows efficient loading and unloading of grape seeds, and the oil filling process takes about 5 to 7 minutes and is visible.
A Full Guide of Grape Seed Oil Extraction Process
Oil seeds pressing method is suitable for varies kind of raw materials and different scales of production, which is a common edible oil production method.
Grape seeds→Purification→Soften→Steam→Cold pressing process→Crude grape seed oil→Oil refining process→Grapeseed edible oil
First of all, processing the raw material-grape seeds: the screened grape seeds are crushed, softened, steamed, and fried to adjust the moisture to make them more suitable for oil pressing, and then conveying pre-processed grape seeds to grape seed hydraulic oil press machine to extract grape seed oil at low temperatures. The cold pressed grape seed oil cannot be directly consumed. The obtained crude oil needs to be refined using grapeseed cooking oil refinery plant to remove impurities and harmful substances so that the oil will be marketable as grape seed edible oil.


Superior Automatic Hydraulic Grapeseed Oil Press Machines for Sale
ABC Machinery focuses on edible oil mill project, with comprehensive strength and rich experience from oil processing project consulting, oil process design, oil extraction equipment manufacturing, installation and commissioning to after-sales service. We have also completed many large, medium and small oil production plant projects. (You might want to kown about:how much a small edible oil mill project cost?>>)
If you are interested in the grape seed oil mill plant project, please leave a message or contact our customer service staff, professional engineering and foreign trade team is at your service!

Cold Pressing Edible Oil Mill Plant Project Offered by ABC Machinery

Global Grapeseed Oil Market Information and Analysis
The grapeseed oil mill project
report offers turnkey solution to grape seed oil business
plan to thrive in this highly competitive market, as well as provide grape seed
oil press line manufacturers/suppliers
for you depend on your actual demands. The following chart shows the industry trends and forecasts for the global grape seed oil market by region (including North America,
Europe, Asia Pacific, South America
、middle east and Africa) to 2028.
(Read More:
business plan of groundnut oil production
>>)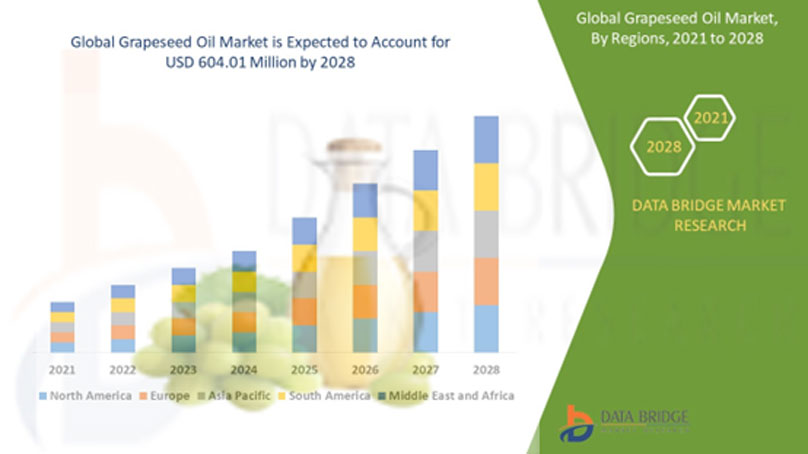 Worldwide Grapeseed Oil Market Projection by Region
The grape seed oil market is expected to reach USD 604.01 million by 2028, growing at a rate of 4.80% during the forecast period of 2021–2028. Increasing demand for organic and sustainable foods is likely to be a factor for the grapeseed oil market during the forecast period of 2021–2028.
Rise of grape oil production cost coupled with the increased use of the harmful chemical hexane in the oil extraction process of production may act as a market restraint for the growth of grapeseed oil in the above projected timeframe. The availability of other alternative organic oil will be the biggest and most significant challenge for market growth.
Request a Quote
We receive enquiries in English, Español (Spanish), Русский язык (Russian), Français (French) and العربية (Arabic).Our professional team will reply to you within one business day.Please feel free to contact us!