Macadamia Oil is a kind of premium quality edible oil and extracted from macadamia nut by different oil extraction technologies, like screw pressing, cold pressing, etc. In addition to cooking, it is also an important base oil for cosmetics. In order to ensure the quality of macadamia oil, it is critical to choose the right oil extraction method and equipment. (Read more: Oil Extraction Machine for Small Business >>)

Macadamia Nut Oil Extraction
Cold Pressing Macadamia Nut Oil Extraction Machine
Hydraulic macadamia oil machine is a new type edible vegetable oil making machine. It is designed with pure physical oil pressing technology and featured with high oil yield and cold pressing. In addition, it does not destroy the organic components contained in the oil. The macadamia oil processed by it has good quality, less impurities and high valued oil cake. (Read more: Cold Pressed Oil Business Project Report >>)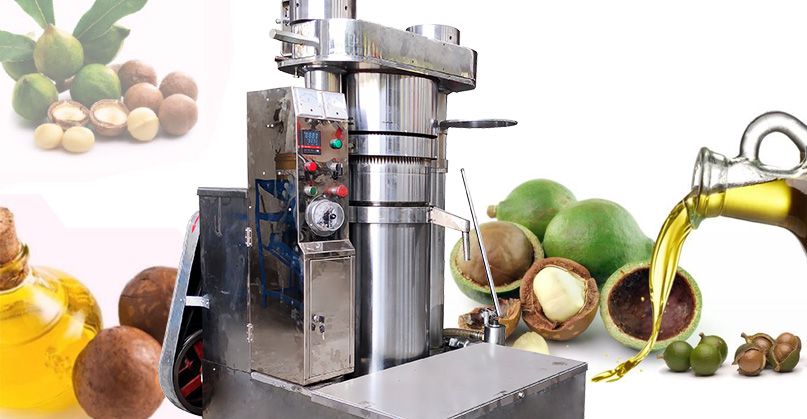 Macadamia Nut Oil Extraction Machine
Cold Pressing Machine for Sales
New type hydraulic oil press machine is extremely easy to operate it. It can be the easiest oil extraction machine. On the other hand, it has less replacement of wearing parts among the mechanical screw oil press machine. It can be used to extract oil from various oil seeds and crops, like sesame seeds, walnut, tea seeds, pine seeds, almond, macadamia, wheat germ, corn germ, etc. (Read more: Setup Sesame Seed Processing Plant >>)

Design Highlights of Cold Pressing Macadamia Oil Machine
The main part of cold press macadamia oil equipment is composed of bottom plate, column, top plate, pressing chamber assembly, oil plate and other parts. The oil enters the pressing chamber assembly and is pushed upward by the force of the cylinder assembly. The oil flows down from the oil seam of the chamber flow and reaches the oil storage barrel through the oil receiving tray. (Relate post: Cost of Cold Press Oil Machine >>)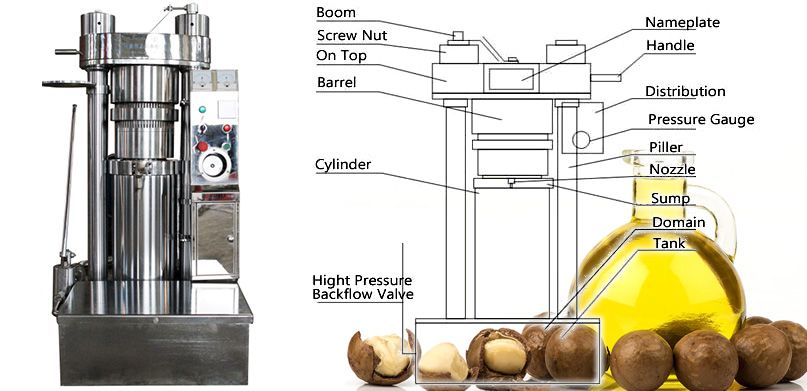 Cold Press Macadamia Oil Equipment
The hydraulic transmission part of cold pressing macadamia oil machine is the main power source of high oil yield. It consists of drive shaft, turbine, gear pump, relief valve, manual valve, cylinder assembly, pipe joints and other components. The oil press adopts high pressure hydraulic pump station and South Korea three plunger pump station, therefore, it can ensure low speed, high oil pressure, and high temperature resistance. It can maintain stable working when the oil temperature is above 65 degrees without cooling device.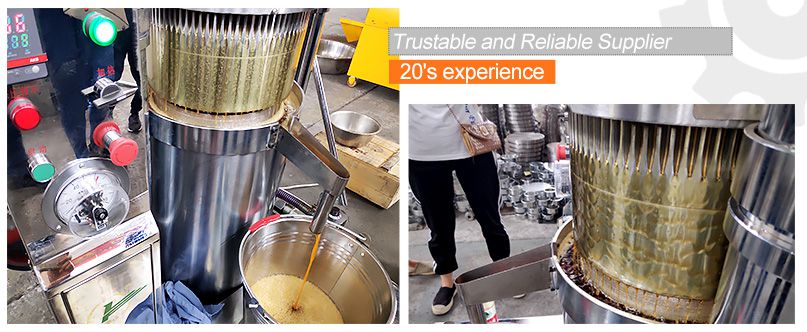 Macadamia Nut Oil Extraction Machine for Sales

Macadamia Nut Oil Machine Achieves Cold Pressing & Pure Mechanical Pressing
Cold press macadamia oil extraction unit for sales – factory price hydraulic oil press machine for macadamia oil making: buy macadamia nut oil extraction machine from oil processing equipment manufacturer or supplier at factory price, get FREE technical instruction of cold pressing macadamia oil extraction process and business plan to set up macadamia nut oil mill project in Mexico, Panama, Pakistan, Thailand, Kazakhstan, etc., at low cost.
Advantages of Hydraulic Oil Press Machine
It has small size design, so it takes up small footprint and it is very suitable for mini, small or medium scale oil processing plant.
It is easy to operate, no special requirements for operators.
In the process of oil extracting, it consumes less power, saving 50% power than stone mill
It features high pressure, high oil yield, and good oil quality
The machine adopts automatic control system, preheating temperature automatic control, hydraulic system pressure automatic control. The main parts of this machine are made of high quality silicon manganese steel, equipped with CNC precision lathe and modern high and new technology. The whole machine has good performance.
Model
Capacity
per Batch
Power
Diameter
of Oil Tank
of Oil Cake
Height
of Material Hopper
Working
Pressure
Material
Pressure
Size
Weight
6YY-190
8 kg

1.5 kw

190 mm
235 mm
400 mm
170 tons
41 Mpa
1000*970*1420 mm
1.05 T
6YY-220

10

kg
1.5 kw
220 mm
248 mm
470 mm
227 tons
47 Mpa
1150*1000*1600 mm
1.4 T
6YY-220B

12

kg

1.5

kw
220 mm
270 mm
470 mm
227 tons
40 Mpa
1180*1000*1600 mm
1.45 T
6YY-270
15 kg
2.2 kw
270 mm
300 mm
465 mm
343 tons
48.6 Mpa
1200*1150*1550 mm
1.6 T
6YY-270B
20 kg

2.2

kw
270 mm
339 mm
465 mm
343 tons
41 Mpa
1250*1200*1550 mm
1.68 T
Request a Quote
We receive enquiries in English, Español (Spanish), Русский язык (Russian), Français (French) and العربية (Arabic).Our professional team will reply to you within one business day.Please feel free to contact us!