What is Automatic Oil Press Machine with Vacuum Filters?
Automatic oil press machine, actually, is a type of screw oil expeller that is improved in some functions for convenience uses and higher oil output. Automatic oil press machine is also called as integrated oil press machine. The added functions for automatic oil press machine are reflected on the design of its structure. Generally, it is composed of material feeder, pressing chamber, electric control cabinet and filters. And, these automatic oil press machines equipped with vacuum filters are automatic oil press machine with vacuum filters.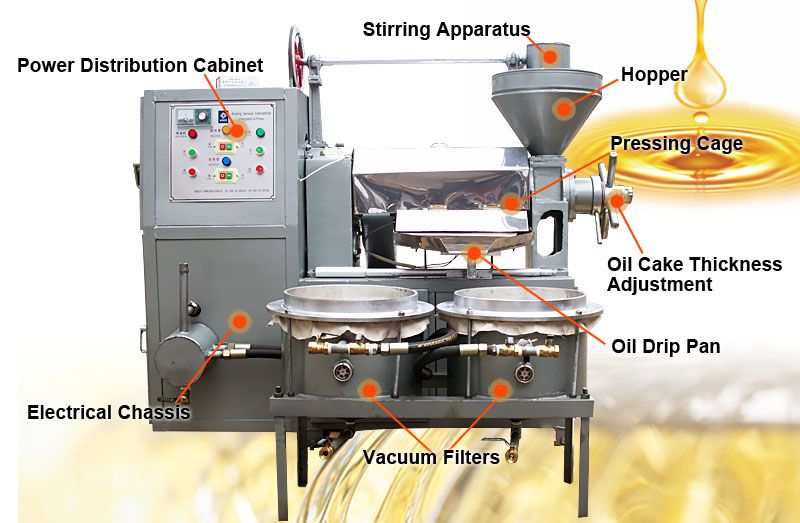 It is clear that the differences between automatic oil press machine with filters and screw oil press is the Electric Control Cabinet and Vacuum Filters. The electric control cabinet provides more accurate display for the oil pressing technology and the vacuum filters can directly filter extracted oil automatically for pure oil. These functions are very convenient and time saving in practical uses.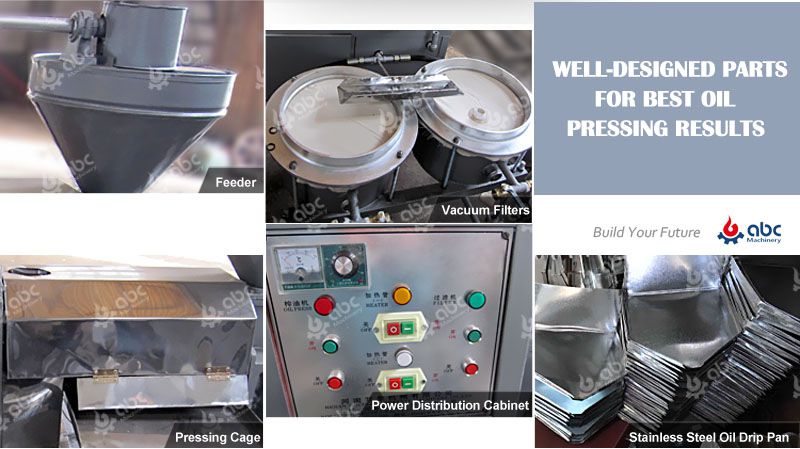 Therefore, automatic oil press machine with vacuum filters are more and more popular among bazaars, country market, mini oil mill, small oil production workshops and medium oil processing factory!
What Materials Automatic Oil Press Machine with Filters can Process?

As the above mentioned that automatic oil press machine with vacuum filters is an advanced model of screw oil press, therefore, the materials screw oil expeller press can process are also suitable for automatic oil press machine, including sunflower seeds, soybean, sesame, coconut, cottonseed, peanut/groundnut, black cumin seeds, niger seed, moringa seed, palm kernel, corn germ, rice bran, tea seeds, rapeseeds, mustard seeds and more.

Why Choose Our Automatic Oil Press Machine?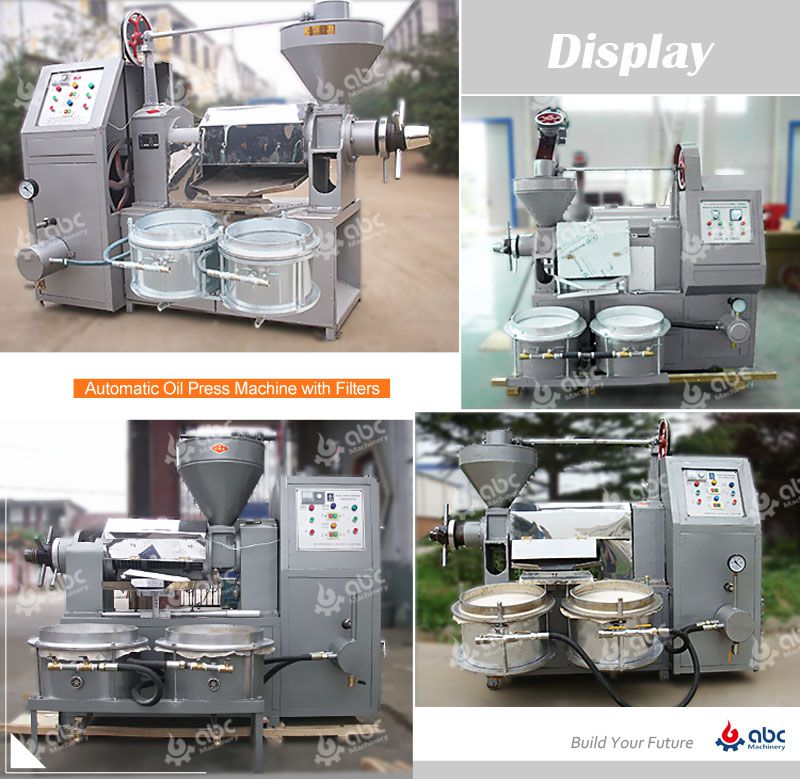 High Performance-price Ratio: It not only inherits the advantages of screw oil press, but increase the functionality without complexity for more smooth oil pressing process and higher oil extraction yield.
Small Floor Space: With compacting structure, it covers small land. Just 10~20 square meters can run your machines or setup a small oil workshop.
Wide Applicability: It can be used to process a very wide range of oil-bearing seeds and oil-rich plants.
Hot and Cold Pressing: It is suitable for hot and cold pressing, so it really achieve using one machine to serve multi-purpose oil extraction.
Premium Quality: The wear parts, such as pressing rings, pressing bars and more, are made of premium quality carbon steel that is after tempering. So, the machine can perform for a longer time.
Higher Oil Yield: Automatic electric cabinet controls the oil pressing temperature for higher oil output compared to traditional counterparts.
Purer Oil: Since the vacuum filters can filters the crude oil automatically, so the oil is much pure.
Effortless and Convenient Operation: It requires one or two worker for normal operation, so it can also help to save the cost on laboring. And the automatic electric control improve the security of the whole machine.
In addition to vacuum filters, we also provide automatic oil press machine with air pressure filters. They are also great choice for various vegetable oil extraction!


Automatic Oil Press Machine with Air Pressure Filters
If you are interested in our products, please do not hesitate to contact us for detailed parameters and latest factory price! We are always at your sides!
I want to set up a fully automatic mustard oil plant in Jharkhand. kindly suggest me about the required machinery along with the rates and capacity of plant.
Hello, sir/madam.
We happened to have a project of automatic mustard oil plant setup in India. It is a small scale edible oil mill plant. It has video that contains the full mustard oil production process and all required machine, you can have a reference.
I'm intresting your "Small Automatic Oil Pressing Line". Please send me price of the machine other things.
Hello, sir. The exact price and cost should based on your raw materials, expected capacity, final oil purposes and other factors. Please tell us all your requirements. So we can make the customized plan for your small automatic oil pressing line and offer the detailed equipment price.
Request a Quote
We receive enquiries in English, Español (Spanish), Русский язык (Russian), Français (French) and العربية (Arabic).Our professional team will reply to you within one business day.Please feel free to contact us!