Project Name - 10TPD Small Soybean Oil Refining Plant Line
Project Location - Kingston, Jamaica
Soybean Oil Refining Unit - Refining Pot, Decoloring Pot, Soapstock Pot, Hot Water Tank, Alkali Liquor Box, Soap Foot Pump, Clay, Decoloring Oil Pump, Decoloring Tank, Vibration Filter, Heat Conduction Oil Pump, etc.
Soybean Oil Refining Process - Neutralizing, Washing, Decoloring, Filtration and Deodorization.
Soybean Oil Packing Process - Blown Bottle, Oil Filling, Glanding, Labelling, and Coding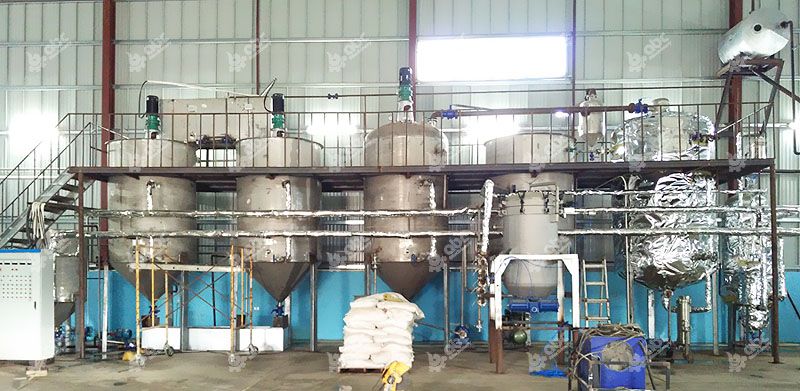 Soybean Oil Refining Line in Jamaica
Small Soybean Oil Refining Plant Line
This small soybean oil refining line, with soybean oil packing system and oil tanks, were ordered by one of our customers in Jamaica. He is engaged in the import and export of goods in Jamaica, mainly selling palm oil, butter, salt, soap, rice, sugar, fresh food and other products. Jamaica is an island country in the Caribbean Sea, near to South America. And Argentina and Brazil are the world's most important crude soybean oil exporters. Due to low transportation cost, good quality of crude soybean oil, he decided to invest on starting up a small scale soybean oil production line to produce edible oil, with capacity 10 tons per day, to enrich his product catalogues and expand market share after thorough market research. (You may be also interested in soybean oil press machine>>)

Main Oil Refinig Equipment Installation
In May 2016, he contacted with us through e-mail. We have established many successful oil processing and refinery projects in the world, and grasp mature oil refining process, especial for edible oils, at the same time, we have rigorous reasonable arrangement about the installation and debugging of every project. In addition, we offered him the good plan relating to cost input and output. Through deliberate market comparison, he finally chose us as his soybean oil refining line supplier. And, he also brought two 100 tons of crude oil tank and a 100 tons of stainless steel oil tank, and soybean oil packaging equipment from us. The design, onsite installation and debugging of the whole soybean oil refinery unit was accomplished under the guidance of our professional engineers.


Small Soybean Oil Refining Plant Installation
In April, 2017, this customized small soybean oil refining plant line started to install. The whole construction period was about two months. Our company assigned professional technicians to the site for guidance. The whole project equipment installation, debugging and commissioning were completed under the guidance of our technical staff. At present, the project has been successfully put into operation. And the high-quality edible soybean oil by this soybean oil processing plant has entered the customer's hot product list.


Soybean Oil Refining Process
He was very satisfied with our one-stop service to help him setup this small scale oil production refinery line. For those who have no experiences in oil production, just like him, our company can provide the most suitable oil processing machinery and comprehensive service, which can help investor to avoid a lot of detours, lower investment costs, eliminate unnecessary waste, ensure high oil production efficiency and substantial product revenue.


Refined Soybean Oil
Below is the complete view of this 10TPD small soybean oil refining plant in setup in Jamaica. It mainly includes soybean oil refining section, soybean oil packing section and soybean oil storage section. The design was based on the principles of customer's requirements, practical production conditions and minimal investment cost. There are no soybean oil section since the our customer buy crude oils from Argentina and Brazil. If you want to set up complete soybean oil mill plant or just need soybean oil pressing line, we can also provide you BEST design & solution. Please let us your needs!
Above is the video about the onsite installation and commissioning situation. Below is the video of the 10 tpd soybean oil prodution plant in normal operation. The main production sections include,
crude soybean oil storage section
,
10tpd batch soybean oil refinery
,
refined soybean oil storage tank
and
edible soybean oil filling and packing section
.
Why Choose ABC Machinery as Soybean Oil Refining Line Supplier?
There are four factors that make our customer choose us as his supplier for the soybean oil refining plant line.

Mature soybean oil refining process.
Superior quality soybean oil refinery equipment.
Reasonable price.
Comprehensive service.
In conclusion, choose us, you can get more than you expected. We sincerely hope that we can build more and more oil mill plants, including
oil pressing plant
and
edible oil refinery plant
, in the world, and let more and more people, especially the ordinary people, to have easy access to healthier and cheap edible oils.
Surely, if you are looking for complete soybean oil production machinery, including soybean pretreatment section, soybean oil pressing section to soybean oil refining section, don't forget to contact us for more detailed cost evaluation. We are always at your sides!
Request a Quote
We receive enquiries in English, Español (Spanish), Русский язык (Russian), Français (French) and العربية (Arabic).Our professional team will reply to you within one business day.Please feel free to contact us!