The following photos are about a series of sunflower oil machine spare parts ordered by one of our old client in Hungary. This client is one of our oil press dealers and he has bought 10 set of sunflower oil machine from us last year. This time he bought several sets of accessories for the screw oil making machine. (Related Post: Start your own sunflower oil processing plant >>)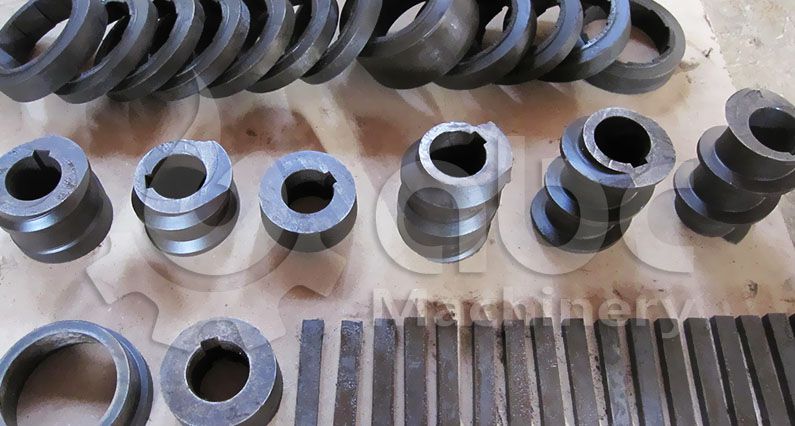 Pressing Ring for Screw Oil Expeller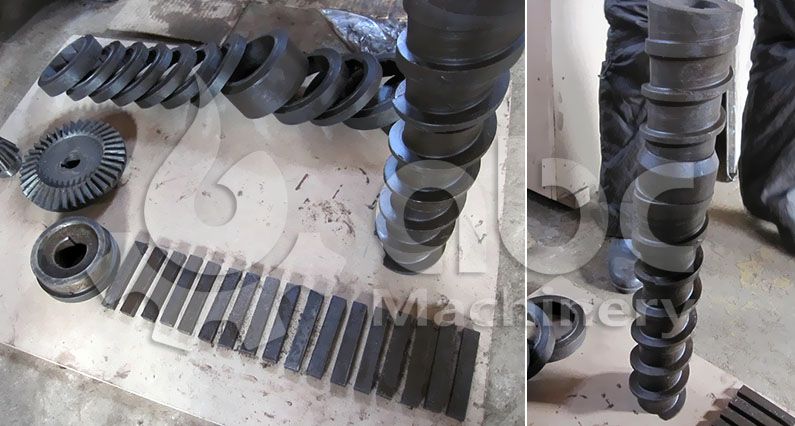 Screw Oil Press Spare Parts for Sale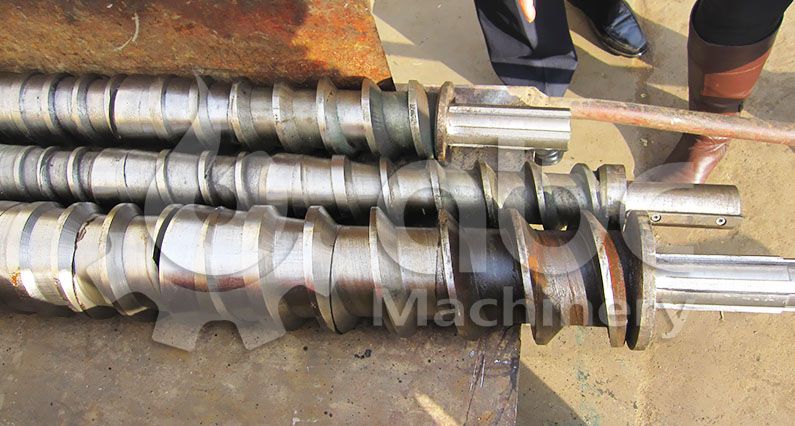 Pressing Screw Shaft
The order amount was $5750. All the accessories ordered by our client finished manufacturing on January 2nd 2018. Look at the following photos of the oil press parts for reference. If you are looking for spare parts for screw-type oil machine and feel interested to get the latest price per set, welcome send us an inquiry! We have built a 1 ton/h complete sunflower oil production plant in Tanzania which includes oil refninging and filling equipment. Click the link to see detailed project report.
Recent News: Integrated Oil Press for Processing Sunflower Seed Arrived in Malawi
What Wearing Parts and Spare Parts Do Screw Oil Press Include?
Now let's have a look at the wearing parts and spare parts of screw pressing sunflower oil machine.
The wearing parts generally include: Pressing screw shaft, pressing ring, pressing bar, pressing screw (pressing bolts), oil cake opening and slag opening, etc.
The spare parts generally include: oil press body, press cage, rack and so on.
Generally speaking, after processing 200,000 to 400,000 tons of vegetable seed oil, the oil machine need to replace a set of pressing ring, pressing bar, pressing screw, oil cake opening and slag opening.
When looking at this, people may ask, why 200,000 to 400,000 tons? It's such a big range. Well the lifespan is closely according to the situation of your oilseeds. When processing peanuts, due to its low hardness, the replacement cycle is relatively longer. When making oil from sunflower seeds with shells, the wear and tear is more serious and the cycle of replacement will be shorter. So it is suggested to shelling the sunflower seeds before oil extraction. Then, how do I know it is time to replace the parts? When Wear and tear will occur after the oil press machine is used for a long time. When you find that there is slag problem between pressing ring, slag, or oil production is lower, no discharge, etc., that means your machine parts need to be replaced.
BEST Sunflower Oil Machine Manufactuer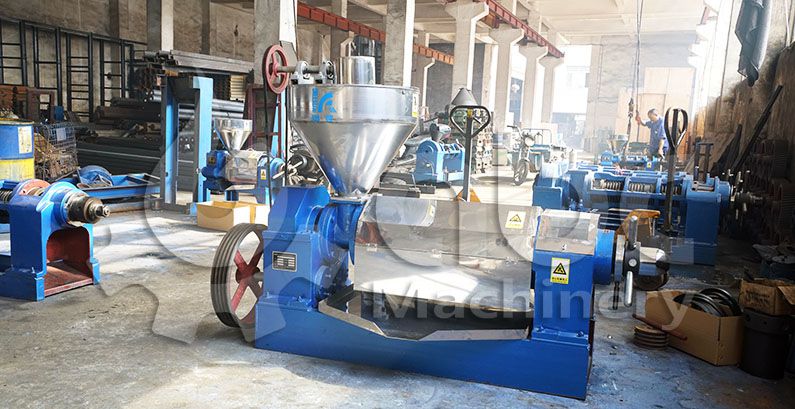 Vegetable Oil Making Machine Manufacturer
All the wearing parts of our screw oil press machine have go through 24-hour heat treatment to ensure longer service life. Except for the wearing parts, there is no problem to use the sunflower oil machine for 10 years. Buy sunflower oil seed oil machine from ABC Machinery and the quality of the equipment is guaranteed. Any questions about setting up edible oil production line, send an inquiry to info@bestoilpressmachines.com
How Often Is It to Change the Spare Parts of Screw Sunflower Oil Machine?
One of the issues that customers care about when operating screw type sunflower seed oil pressing machine is that how often is it to change the spare parts. It seems that the user's attention to this problem is very high. Today in this article, ABC Machinery is going to talk about this issue for you in detail.

Actually, the question is somewhat general. The accessories of screw sunflower oil making machine are divided into wearing parts and spare parts.
Wearing Parts: As the name implies, wearing parts are the parts that need to be replaced frequently during sunflower seed oil production.
Spare Parts: The lifespan of spare parts is relatively long than wearing parts, so they do not need to be replaced frequently.
Request a Quote
We receive enquiries in English, Español (Spanish), Русский язык (Russian), Français (French) and العربية (Arabic).Our professional team will reply to you within one business day.Please feel free to contact us!