If you are looking for a reliable supplier for Edible Oil Refinery Machinery, ABC Machinery is your right choice. In the past 20 years, we have built a great deal of projects for vegetable oil and animal oil refining. However, we never stop improving the quality, performance and technology with the aim to offering BEST oil refining unit for our customers. Most importantly, we boast strong ability to provide custom-made oil refining process or equipment, which can maximize the required needs and lower the cost. (You may also like Small Fish Oil Refinery Plant >>)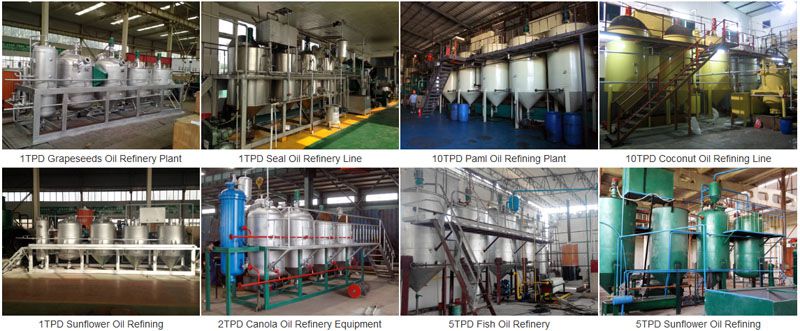 Small Edible Oil Refinery Plant
Edible Oil Refining Capacity We Can Supply
► Batch Type: 1~30T/D
► Semi-continuous Type: 20~50T/D
► Continuous Type: >30T/D
► Application Range: Various vegetable oils and animal oils, including sunflowe oil, mustard oil, palm kernel oil, fish oil, seal oil and more
In addition to the typical capacity specifications, we also supply custome-made
Lab Scale Oil Refinery Unit
for your needs.
If you have any interests, please directly contact us for detailed refining process and latest factory price!
Stainless Steel Seal Oil Refinery Unit
This lab scale seal oil refinery unit is made of stainless steel, instead of carbon steel. The main parts, neutralizer, degummer, decolorizer, deodorizer, condenser and the pipeline are all made of stainless steel. The whole oil refining unit is not beautiful, but also of high practicability seeking for best refined seal oil.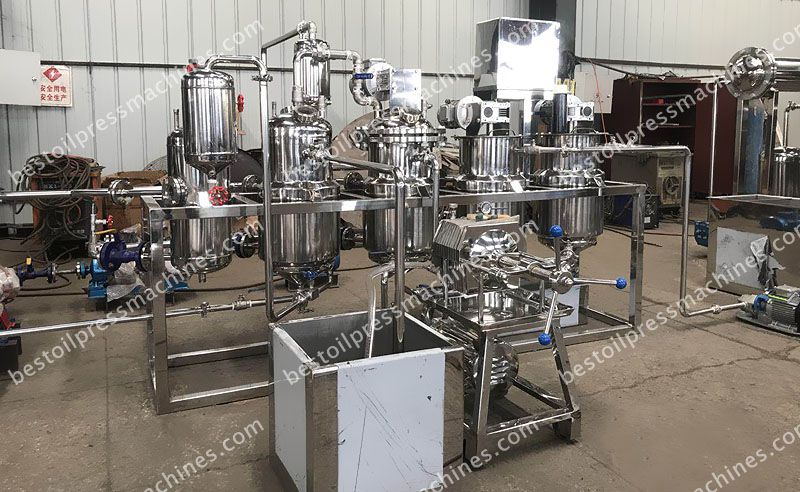 Custom-made Stainless Steel Seal Oil Refinery Unit (Capacity: 25KG)
From the structure of the oil refining unit, it is easy to understand the seal oil refining processes, degumming, neutralization, decolorizing and deodorizing.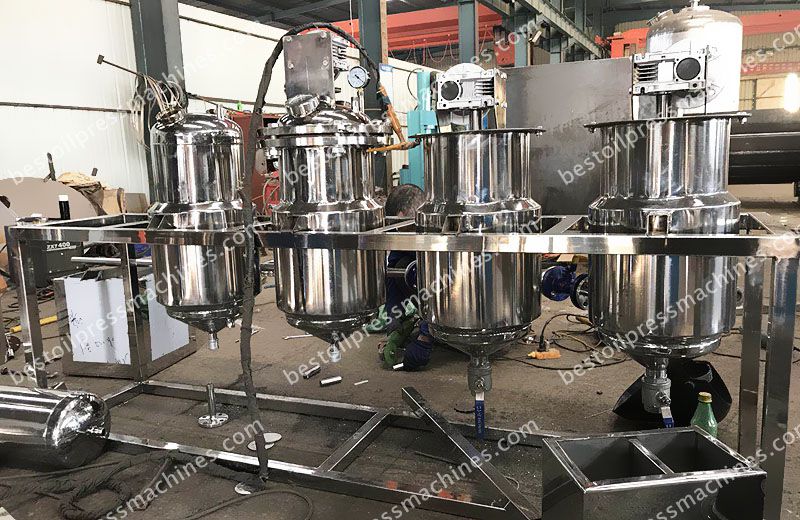 Degumming: to remove the colloidal impurities in the crude oil, mainly proteins, phospholipids and mucinous substances.
Neutralization: to remove the free fatty acids in oil, mainly using neutralizing deacidification (alkali refining)
Decolorizing: to remove pigment impurities contained in the crude oil. The color of the crude oil is caused by the pigment substances and the oxidation of its unsaturated fatty acids.
Deodorizing: to remove the decomposition products of raw materials that are mixed from the contaminants during oil processing and many odorous substances resulting from the oxidative degradation of oil.
Above oil refinery unit is custom-built to process seal oil in Demark. If you have the requirements for the edible oil refinery machinery, such as capacity, materials, colors, refining process and more, we will offer you more than you expected! You are very welcomed to write to us!
Complete Stainless Steel Oil Refinery Unit - Lab Scale or Mini Scale
Why Seal Oil is Precious?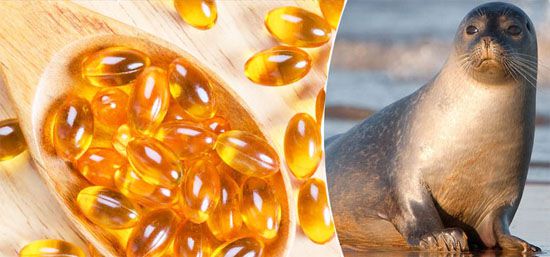 Seal oil, extracted from seal adipose tissue, is a precious nutritional supplement enriched with OMEGA-3 unsaturated fatty acids. Seal oil contains approximately 20% to 25% of OMEGA-3 unsaturated fatty acids, which is the most abundant animal in nature. At the same time, seal oil contains a certain amount of Squalene and Vitamin E.
Benefits of Seal Oil for Human
For a long time, the world medical community has discovered that Eskimos living in Newfoundland, Canada, rarely suffer from cardiovascular and cerebrovascular diseases, hypertension, and cancer. In the 1970s, some medical doctors in Canada studied and concluded that the Eskimo people's diet is mainly seal meat, seal oil and fish. Because these foods are rich in OMEGA-3, they did not have these "civilized diseases" of humans. As people's research on OMEGA-3 begins to deepen, more than 15,000 research reports indicate that OMEGA-3 has anti-inflammatory, anti-thrombotic, anti-arrhythmic, hypolipidemic, and vasodilator properties.
Request a Quote
We receive enquiries in English, Español (Spanish), Русский язык (Russian), Français (French) and العربية (Arabic).Our professional team will reply to you within one business day.Please feel free to contact us!