Project Name: Small Scale Fish Oil Refinery Plant
Project Location: Quezon City, Philippines
Project Capacity: 5 Tons per Day
Raw Material: Sardine oil and other sea fish oil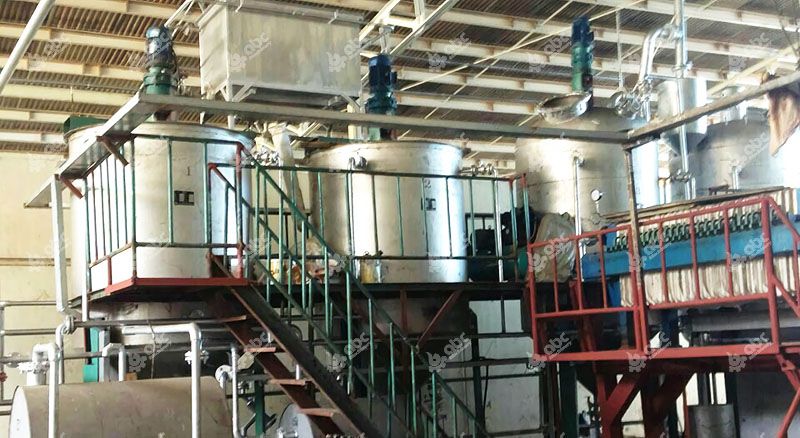 This 5TPD small scale fish oil refinery plant, set up in 2015, was brought by one of largest fish processing company in Philippines to produce refined fish oil for deepsea fish oil capsule production. The time of onsite installation, commissioning and stuff training all together were about one month. Our professional engineers would ensure all the fishing oil refining equipment was operated normally and all the operators of this plant master how to operate it. Now, this fish oil refinery plant is running very well. For most sea food processing company, choosing an efficient oil refinery machine to further process the sea fish oil will expand the values of sea food processing and develop the product ranges. It is absolutely worth the investment. Any time you want to more information, please contact us!



Fish Oil Refinery Process
This small sardine oil refinery plant adopts chemical oil refining method, the detailed process is as followed.
De-gumming: Adding hot water to remove the gum in the oil. Make the oil cleaner.
Neutralization: Add the NaOH to react with the FFA, then we can lower the FFA value, make the oil more suitable for human consumption.
Decoloration: Use the bleaching earth to absorb dirties in the oil, make the oil color more beautiful, the oil more healthy.
Deodorization: Use high vacuum system to lower the peroxide value. Then there is no the serious smell in the oil. The taste will be good for consumer.
It is worth mentioning that the refining pot is equipped with heating pipe in the bottom because fish oil is easy to be frozen. This customized design will avoid oil freezing and smoothen the whole fish oil refining processes.
Why Choose Us as Your Fish Oil Refinery Plant Supplier?

We have gained rich experiences in oil refining, including vegetable oils and animal oils. We have helped our customers from the world, including Philippines, Pakistan, Bangladesh, Namibia, and more, to set up small scale fish oil refinery plant, mainly 1 ton per day to 10 tons per day. Therefore, choose us, you not only get the quality guaranteed oil refinery equipment, but are backed by professional technical guidance, comprehensive stuff training, quick problem solutions and customized services. Here, we share some important analysis information about fishing oil refinery problems.
The quality of crude fish oil has effects on the quality of final refined fish oil
Fish oil is mainly extracted by dry and wet methods, and the fish oil by dry extraction method has a deep color and low refining rate, which is not easy to discolor. Wet extraction fish oil has light color, high refining rate and is easy to decolorize. With many years of experience, we found that if the fish can be immediately extracted oils when it was caught and then be refined timely, including hydration degumming, dehydration processing. The quality of refined oil is high and the color is shallow. The refining rate is also high and is also beneficial for decolorizing. Besides, we also remind all the customer that the impurities in crude fish oil must be filtered to remove the impurities before refining, so as not to interfere with the subsequent fishing oil refinery process.
Water washing and water temperature
The water temperature should be strictly controlled to avoid the loss of neutral oil due to emulsification and low refining rate.
Based on our experience, we suggest to it has better result to add bleaching clay after premix than add the bleaching clay directly. The amount of bleaching clay added should be determined according to the different oil quality.
Strictly control the temperature and vacuum degree of deodorization, avoid the effects of low temperature or high temperature to cause high viscosity of the polymer, which can affect the quality of refined fish oil.
Fish oil contains more solid fat and has higher freezing point. Moreover, the crystallization of fish oil is the intermediate type of β1, which is not easy to form a stable large crystal. Therefore, slow crystallization method is recommended in the fish oil refinery process, and the effect is the better in production. The refining rate of fish oil is high, about 90%. It can increase the effective composition (EPA and DHA) in fish oil by 2% to 3%.

In conclusion, ABC Machinery is a professional supplier of fish oil refinery plant. What is more, our rich and practical experiences in fish oil refinery will help our customer eliminate a lot of problems in installation, commission and normal operation. If you have ambitions in setting up small scale fish oil refinery factory or large scale oil refinery plant, we are always here to solve your problems. And we promise that the oil refinery machinery you get from us is at very competitive price and superior quality.
Request a Quote
We receive enquiries in English, Español (Spanish), Русский язык (Russian), Français (French) and العربية (Arabic).Our professional team will reply to you within one business day.Please feel free to contact us!