Rice bran is a kind of material that is peeled off the surface of brown rice. The average oil content of rice bran is around 15% ~ 20%. Rice bran oil has a high nutritional value. Its unsaturated fatty acid content is as high as 70%, among which the oleic acid is 42% and the linoleic acid is 38%. What is more, rice bran oil is rich in oryzanol that has the effect of reducing platelet aggregation, reducing liver cholesterol synthesis and lowering cholesterol absorption. Rice bran oil is not only a kind of edible oil, but also a health care oil that can effectively soften blood vessels and lower cholesterol. (You may be also interested in Corn Germ Oil Making Machine >>)


Rice Bran Oil Press Machine
Rice bran oil making can be achieved by various oil extraction machinery, but if using mechanical force to extract rice bran oil. Screw oil press expeller would be the most suitable equipment. The rice bran oil press machine is equipped with pressing bar and pressing rings in the pressing cage, which can precisely control the pressing temperature at low pressure condition. Our screw rice bran oil machine not only ensure high oil output, but also protect the unsaturated fatty acid at the utmost and reduce the loss of nutrients. (Read more about the Edible Oil Mill Plant Project >>)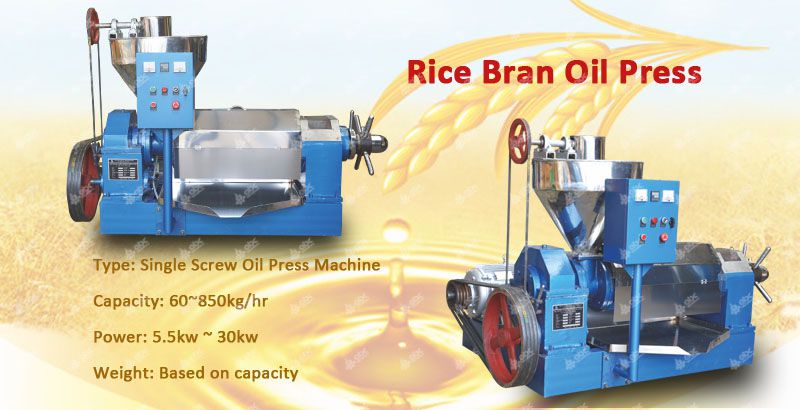 Rice Bran Oil Press Machine for Sales
Features of Rice Bran Oil Press Machine
User-friendly operation – it is easy to install and maintain
Improved design – undated design making this oil press more suitable for rice bran oil production
Wide application – also suitable to squeeze oil out from other vegetable seeds, including corn germ, sunflower seeds, groundnut, almond, prickly pear seed, niger seed and more.
There may have many factors that affect the oil yield of rice bran oil, among which there are two common factors. The first one it the broken rice contained in the rice bran. Since broken rice contains starch that is easy to gelatinize and jam the oil road to affect oil extracting. Another is drying rice may absorb oil. Therefore, get professional technical instruction will greatly improve the oil yield when using rice bran oil press machine.
If you want to set up professional factory for rice bran oil making, screw oil press can greatly lower the investment cost, but also ensure high efficiency. We are professional oil press machine supplier and manufacturer. At the same time, we have solid skills and rich experiences in undertaking rice bran oil mill projects worldwide. If there are any questions, please get in touch with by any possible ways, we are always ready for you!
Request a Quote
We receive enquiries in English, Español (Spanish), Русский язык (Russian), Français (French) and العربية (Arabic).Our professional team will reply to you within one business day.Please feel free to contact us!