ABC Machinery is dedicated to constantly updating and informing our customer of advanced equipment in the industry of vegetable oil production for edible or biofuel purpose. We work to improve the oil processing machinery in the oils and fats industry around the world. Mini oil mill plant is best choice for oil crops growers, small scale oil business workshops. It can be used to extract oil from a wide range oil oil-bearing seeds or oil-rich plant, including rice bran, corn germ, peanut/groundnut, sunflower seeds, mustard seeds, soybeans, canola seeds and more.


Mini Rice Bran Oil Mill Plant
Rice bran oil is a kind of vegetable oil that is extracted from the rice husk, the hard outer layer of brown rice. It is the main cooking oil in some countries of Asia. In addition, it is also used in the manufacturing of industrial products, such as feed, soap, hardened oil, glycerin, stearic acid, oleic acid and paint resin. The oil content of rice bran is about 15%~20%.

Mini Rice Bran Oil Mill
Rice Bran Oil Extraction Process - Screw Oil Press
Screening: Sift the impurities, such as broken rice and big bracts. In particular, it is necessary to remove broken rice, because the main component of broken rice is starch, when the embryo is steamed, it absorbs water and expands into a sticky paste. When pressed, the oil pipe is blocked and the oil yield is lowered.
Warm water: add 3 to 4% of warm water at 50°C.
Stirring: The stirrer is 480 to 500 rpm. Stir for 10 to 15 minutes and raise the temperature to 54 to 58 °C.
Insulation and moistening: There are two methods, one is to use the steam heating tube to keep the whole workshop warm; the other is to make the oil press the machine to keep warm. Practice has proved that the room temperature is maintained at about 30°C, and the oil cooling rate can be improved by the oil press heat preservation method. The temperature was kept for 30 minutes, the temperature was 56 to 58°C, and the water content was 13.5 to 13.8%.
Pressing: Make the pretreated rice bran into cake for oil pressing. Each cake weighs about 2 kg, and the moisture in pressing stage is about 13.8%. Then, uses screw oil press machine to squeeze oil out.
Oil Filtration: The pressed crude oil contains impurities, such as cake powder, and is filtered through a 60 mesh screen. The oil temperature during filtration is generally about 80°C.
Factory Price Rice Bran Oil Manufacturing Units for Sales
Setting up rice bran oil mill plant actually is flexible and easy for all people, even those who don't have too much knowledge about oil production. As the core of a oil mill plant, rice bran oil manufacturing machine is the most importantly machinery. To meet different demands, screw oil press machine for rice bran oil manufacturing are single screw oil press and integrated oil machine. Both are small in size, easy to operate, install and maintain.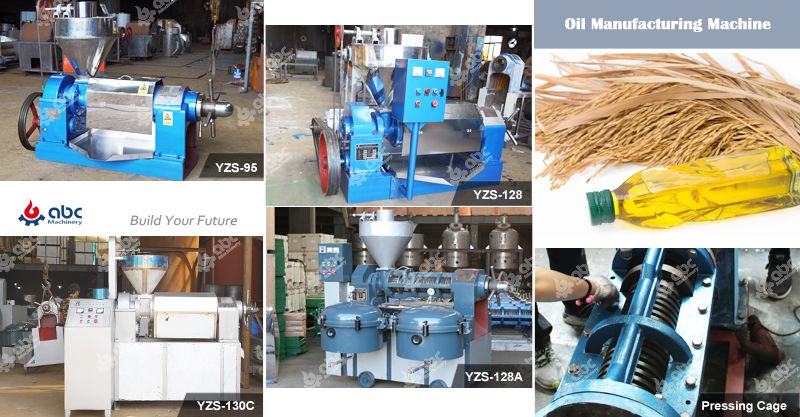 5TPD Customized Rice Bran Oil Mill Plant to Thailand




If you are planing to start up a mini rice bran oil mill plant, we can offer the BEST solutions to save your money while ensure high oil yield and efficiency. Any questions, please contact us!
Request a Quote
We receive enquiries in English, Español (Spanish), Русский язык (Russian), Français (French) and العربية (Arabic).Our professional team will reply to you within one business day.Please feel free to contact us!