Since 2004, ABC Machinery has become a global specialist in providing integrated vegetable oil extraction solutions for various oilseeds, like soybeans, groundnut/peanut, rapeseeds, sunflower seeds, palm kernels, castor beans, etc. With a more than 1000 square meters workshop and professional production and QC team, we always try to provide customers with superior oil mill machinery for their business. We are dedicated to create long term value for our customers and to become an industry leader by maintaining excellent equipment quality and service.


How to Extract Castor Oil?
The expanding applications of castor oil in soap, plastic, lubricating oil, health, cosmetics and other industries spurs the growth of demand of castor oil in the market, which further provides business opportunities for entrepreneurs and businesspeople to take advantage of. Starting castor oil manufacturing business is significant investment in research and development in the castor oil industry. Castor oil processing is very profitable because of the high availability of castor seeds. (Read more: Oil Extraction Machine for Small Business Price >>)
Castor Oil Extraction Methods and Technology
Castor seeds have 30-50% oil content. There are many methods that can extract oil from castor oils, but the most efficient and cost effective castor oil extraction methods are below:
Solvent Extraction
Mechanical Pressing
A Combination of Solvent Extraction and Mechanical Pressing

How Castor Oil is Made by Solvent Extraction and Mechanical Pressing?
Above mentioned castor oil extraction technologies have its different advantages and suitable for different castor oil production requirements. Here, we mainly introduce the third one, to extract castor oil by using the combination of mechnical pressing method and solvent extraction method. (Read more: Solvent Extraction Machinery Types for Vegetable Oil >>)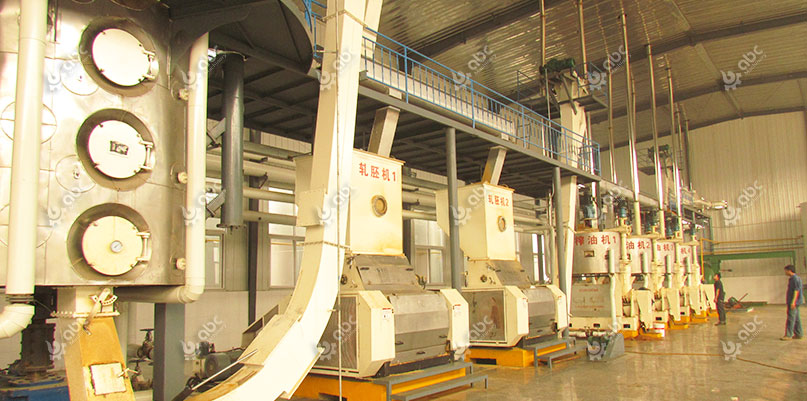 Large Castor Oil Manufacturing Plant
Step 1: Castor Oil Pre-pressing Process: Castor Seeds → Cleaning → Flaking → Cooking → Pressing → Seperation of Oil and Cake
Step 2: Solvent Extraction for Castor Oil: Castor Oil Cake → Solvent Extraction → Mixed Oil → Settling → Evaporation → Vapor Extraction → Crude Castor Oil
After the harvest of the seeds, they are left to dry. This allows the seed hull to split for the release of the seeds. Castor oil extraction starts with the dehulling of the seeds. The dehulling process can be done using hands or a castor bean dehuller. Although using a dehuller is expensive, it helps to ensure the high quality of the oil produced. After removing the hulls from the seeds, the seeds undergo a cleaning process. This removes dirt, leaves, sticks, sand, or stems. Equipment used for cleaning the seed includes revolving screens and reels. Sometimes, magnets are present to remove iron particles.
Cleaned castor seeds will be rolled for flaking process, do not roll the broken, crushing rate is about 95% or more. Then use high moisture steaming for cooking, wet moisture control at about 18%, discharge moisture control at 3% to 5%, to improve the oil yield and quality of final oil and oil cake. Large screw oil press machine is adopted to press castor oil. The castor oil press machine we provide can achieve high oil yield, its water content for material is 3%-5%, the temperature is 115℃, the thickness of cake is 12mm, the residual oil in the cake can be as low as 8% and as high as 13%. (Read more: Castor Oil Manufacturing Business Plan >>)
The solvent extraction of castor cake was completed in the flat turn solvent extractor, the extraction temperature was 55℃, the extraction water content was 6%-8%, the height of the material layer was controlled at about 1.25m, the leaching time was 120min, the mixed oil concentration was 17.5%-19.5%, and the residual oil of the meal was less than 1.0%.
Castor Oil Refining Methods and Technology
After the extraction process of the castor oil, crude castor oil still has to undergo filtration to remove impurities. Filtration systems are used to remove particles, acids, dissolved gases, and water. Oil filter press is commonly used for filtering castor oil. Crude castor oil is then taken to a vegetable oil refinery plant for castor oil refining. The processes that take place in the plant are degumming, neutralization, bleaching, deodorization, and winterization. (Read more: Oil Refinery Plant Manufacturers >>)
For different capacity, castor oil refining plant can be divided into:


Three Castor Oil Refining Methods
Batch Refinery Plant
Semi-continuous Refinery Plant
Continuous Refinery Plant
Because the refined castor oil does not undergo high-temperature processes, it can have a shelf-life of up to 12 months.

Reasons to Setup a Castor Oil Manufacturing Business
Castor oil is a vegetable oil gotten from castor seeds. The seeds are from the castor oil plant found in South America, India, and East Africa. Another major use of castor oil is in the production of castor oil derivatives. The derivatives have a wide variety of industrial applications, such as for manufacturing fertilizers. The demand for castor oil is rapidly increasing. One of the major reasons is its applications in the cosmetic industry. There, it is used to manufacture skincare products that help to treat skin infections.
Hydrogenating castor oil improves taste and odor, as well as increases the shelf life and melting point. It also makes it very useful in the cosmetic industry. Jamaican black castor is also becoming popular because of its extremely high quality. High-quality castor oil has very potent antibacterial and antifungal properties.
In the next couple of years, there will be new uses for castor oil. New castor products such as castor beans are already finding uses in the healthcare industry. Therefore, there are several business opportunities for entrepreneurs and businesspeople to take advantage of. Several companies are establishing innovation centers to discover more profitable applications of castor oil. Therefore, that is significant investment in research and development in the castor oil industry. Castor oil processing is very profitable because of the high availability of the seeds.
Request a Quote
We receive enquiries in English, Español (Spanish), Русский язык (Russian), Français (French) and العربية (Arabic).Our professional team will reply to you within one business day.Please feel free to contact us!