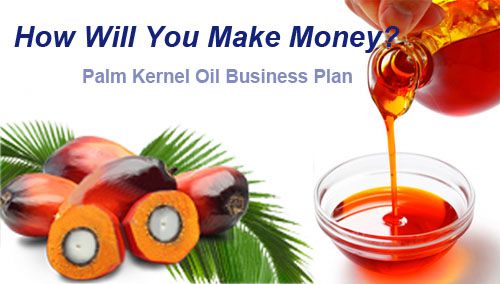 ABC Machinery is a professional oil processing machinery manufacturer and supplier in China. We have gained rich experiences in supplying high quality oil press machines and setting up vegetable oil processing plant for customers to process different raw materials around the world through years of development and practices. Palm kernel is the most important materials to produce vegetable oil, the production of palm kernel oil is always hot and profitable business investment in global market, especially in country where has a large amound of oil palm plantation, such Indonesia, Malaysia, Nigeria, Ghana and more. Here, we offer an outlined business plan of palm kernel oil production. (You may also like High Quality Sunflower Seed Oil Press Machine >>)
Palm Kernel Oil Production Business Plan
A complete and feasible palm kernel oil production business plan mainly includes the significance of palm kernel oil production, market forecasting of palm kernel oil, production conditions, palm kernel oil processing technology, palm kernel oil processing machinery, environmental protections, personnel training and more. (You may be also interested in Wholesale Groundnut Oil Machine Price>>)
Any investment or production should be based on certain conditions, which is the same with palm kernel oil. The basic conditions for palm kernel oil production are adequate investment funds, factory area, sufficient raw material supply, advanced oil processing equipment, efficient oil production processes and more. Among these, enough financial support is a vitale factor for all the production for any oils. It can decide other conditions. If you want to know the total cost investment for palm kernel oil production in all scales, please contact us to get more detailed information!
Equipment Selection & Production Process
The palm kernel oil production process mainly includes palm kernel crushing, cooking, oil pressing and oil refining. It may be a little different in some process based on the final product usages. Palm kernel oil press expeller is the main equipment to extract palm kernel oil. It is the most economical and suitable palm kernel oil pressing machine for small or medium scale palm plantation plants.

Palm kernel expeller extracts oil out from the nut by mechanical forces, so there are no more chemical addtives in the crude oil. The palm kernel expeller machine designed and manufactured by ABC Machinery, featured with fast cost recovery, is very economical and practical for small farmers, small palm garden, small scale or medium scale palm kernel oil mill plant factory. It is very popular with customers in Nigeria, Cameroon, Ghana, Indonesia and more. (Read more about Palm Kernel Oil Refining Line in Cote D'lvoire>>)
Technical Data of Palm Kernel Oil Press
| Model | Capacity | Power | Dimension (m3) | Weight (kg) |
| --- | --- | --- | --- | --- |
| YZS-85 | 1.4-2 T/24hrs | 5.5Kw-4P | 1.20*0.40*0.90 | 200 |
| YZS-95 | 3.5-5 T/24hrs | 11Kw-6P | 1.60*0.70*1.35 | 530 |
| YZS-105 | 5-7 T/24hrs | 15Kw-4P | 1.83*0.70*1.35 | 550 |
| YZS-128 | 7-9 T/24hrs | 15Kw-6P | 2.01*0.60*1.17 | 775 |
| YZS-130 | 10-12T/24hrs | 18.5Kw-6P | 2.00*0.80*1.38 | 850 |
| YZS-150 | 18-20T/24hrs | 30Kw-6P | 2.18*0.79*1.79 | 1380 |
The palm kernel oil press can be used alone or with other equipment. If your oil processing capacity is small, you are advised to buy a single machine, one set or two sets. If the processing capacity is a little large, you can choose to buy a complete palm kernel oil production line. The common palm kernel oil production machinery has: Separation Equipment → Cleaning Equipment → Crushing Equipment → Steaming or Frying Equipment → Oil Expeller Press → Oil Filter Press → Oil Refining Equipment. For more detailed specifications or model, please contact us for professional technical data!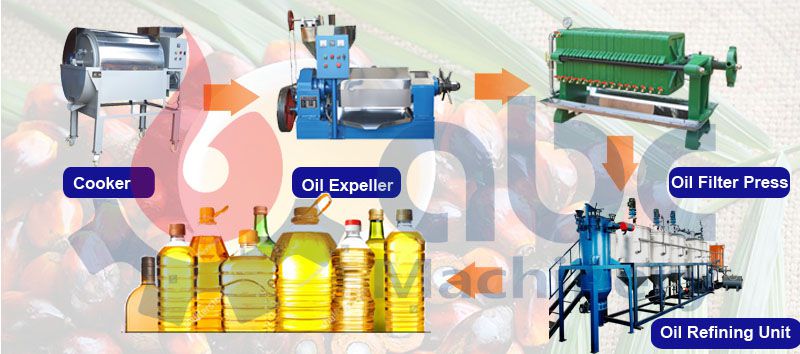 An Example of Small Palm Kernel Oil Production Line
Other factors related to the business plan of palm kernel oil processing are also important. But, a reliable and experienced supplier will help you solve all the problems easily. ABC Machinery has professional teams for designing, manufacturing, installation, commissioning and after-service. We are your partner for an ideal and customized palm kernel oil production business plan. We will use our professional technical knowledges to ensure a great success of your business plan. Any questions, please get in touch with us directly!
Global Palm Kernel Oil Production and Consumption
Global palm kernel oil production in 2016 was 7.42 million tons, with year-on-year growth of 69%. The global palm kernel oil production in 2017 is expected to reach nearly 7.9 million tons. From 2012 to 2016, the global output of palm kernel oil showed an increasing trend, with an annual compound growth rate of 2.6%. It is expected to produce nearly 7.9 million tons of palm kernel oil in 2017. In recent years, the global consumption of palm kernel oil has been increasing slowly, and the average annual compound growth rate of palm kernel oil consumption in 2012 and 2016 is 2.4%. Global palm kernel oil consumption is expected to be 7.22 million tons in 2017.

2016~2017 Global Palm Kernal Oil Production and Consumption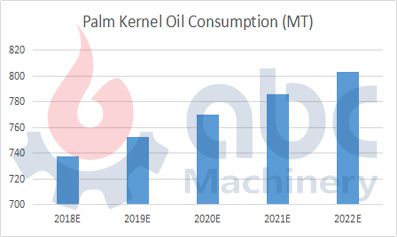 Global palm kernel oil consumption is expected to continue to rise slowly in the next few years, with a total of 8 million tons in 2022. Palm kernel oil can meet different requirements by separating, mixing and hydrogenation. Each kind of special palm kernel oil, according to the food processing requirements, has their own melting temperature, which expands the demand for palm kernel oil. Palm kernel oil is used to make cocoa butter. It is an ideal substitute for cream. The filling cream is made from sugar, milk powder and brown seed oil, which can be used on biscuits, cream cakes and cakes. Other products have also been improved by the presence of palm kernel oil, such as toffee, caramel, non-animal-based milk powder and peanut butter. Palm kernel oil is also used in the manufacture of triglycerides, which are specially made for people who cannot digest and consume ordinary fats.
In addition, due to the unique nature of palm kernel oil, it can be decomposed into a series of oil and chemical products with different USES. There are thousands of chemical product that are made from palm kernel oil, including skin care products, detergents, and various industrial products. Therefore, palm kernel oil production is a profitable business if you are looking an ideal investment project. There always have demands for palm kernel oil in global market. You are very welcomed to contact us for more information about palm kernel oil production business plan, including the investment cost for different production capacity, the specific equipment, the production process, the installation and commission period, and more. We are always at your sides.

Request a Quote
We receive enquiries in English, Español (Spanish), Русский язык (Russian), Français (French) and العربية (Arabic).Our professional team will reply to you within one business day.Please feel free to contact us!