Knowledge about Neem Seed Oil

Neem seed oil, a kind of vegetable oil, is derived from the seeds of neem. Neem is a tropics plant that is original from India. Neem seed oil has been hailed as one of "nature's miracles." Neem seed oil is mainly composed of triglycerides and triterpenoid compounds, which is the reason of its bitter taste. Below is the main fatty acides compositions of neem oil.
| Common Name | Acid Name | Composition range |
| --- | --- | --- |
| Omega-6 | Linoleic acid | 6-16% |
| Omega-9 | Oleic acid | 25-54% |
| Palmitic acid | Hexadecanoic acid | 16-33% |
| Stearic acid | Octadecanoic acid | 9-24% |
| Omega-3 | Alpha-linolenic acid | ?% |
| Palmitoleic acid | 9-Hexadecenoic acid | ?% |

Unlike other vegetable oils for cooking purposes, neem seed oil is not used for cooking (Ralated article: Cooking Oil Production Line). Neem seed oil has outstanding antibacterial and natural antiviral properties. Therefore, neem seed oil is very important materials for Cosmetics, Medicine and Pesticide. There are many methods to extract neem oil from neem seeds for business purposes, including mechanical pressing, solvent extraction, and more. This article mainly introduce the mechanical pressing of neem seed oil extraction in details.
Neem Seed Oil Press Machine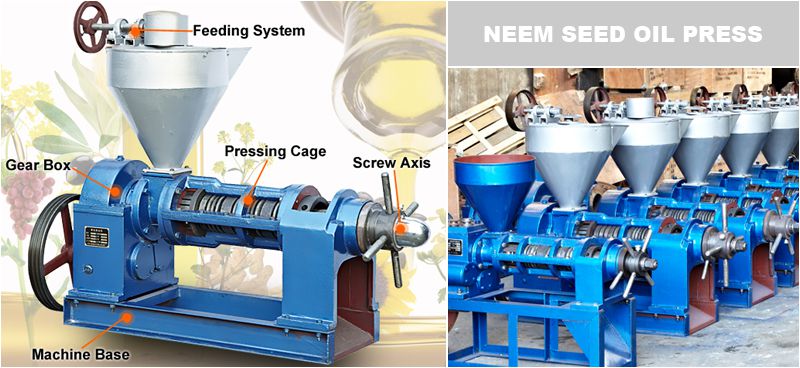 Neem Seed Oil Press Machine Structure

Neem oil extracting should depend on some type of equipment and machinery. For small scale oil pressing line, the capacity ranges from 1tpd to 50 tpd, screw oil press machine is the BEST choice for neem seed oil pressing. Typically, the neem seed oil press machine is composed of feeding hopper, pressing cage (pressing rings, pressing bars and screw shaft), gear box, machine base and more. This is the most efficient design of neem seed oil machine since it has many outstanding features, including:
It is safe and easy to install, operate and maintain, it is almost a worry-free oil extraction unit

Its price is relatively cheap in the market, so many can afford it to start their neem seed oil extraction business

It takes up very small space, which won't increase the cost for factory land

It is also suitable to process other vegetable seeds and nuts, it is a multi-purpose oil press machine.
How Neem Seed Oil Press Extract Oil Automatically?
Neem seed oil press machine is screw type oil extraction machine. Through continuous development, it has been improved greatly based on users' needs. Nowadays, most neem seed oil press machine can achieve automatic operation. But, how the neem seed oil press machine works automatically?
Simply put, the pretreated neem seeds are loaded into the feeding hopper. With the pushing action of the rotating screw shaft in pressing chamber of screw oil press machine, the material is pushed forward continuously. At the same time, due to the reduction of the screw pitch of the oil press, the increase of the width of the screw thread, the diameter of the root circle gradually increased (and the space of the oil press chamber decreased with the advance of the material), the material volume was compressed and a strong extrusion pressure was generated. In this way, the oil is squeezed out from the gap of the pressing cage, and the dry materials are pressed into oil cake blocks and discharged from the end of the pressing shaft automatically.

Small Neem Oil Extraction Line
5~20 TPD: The cost of starting a 5~10 tons per day neem seed oil processing plant is about $7,000~$40,000.
20~30 TPD: The cost of starting a 10-20 tons per day neem seed oil extraction plant is about $40,000~$50,000.
Neem Seed Oil Global Market
Actually, the market of neem seed oil is now across the world, it is not just stayed on certain areas or countries. The global market of neem seed oil spans across Latin America, Asia Pacific, North America, Europe, and Middle East and Africa. The pervasiveness of agricultural activities across Asia Pacific coupled with a favorable climate in the region makes it the leading producer of neem oils across the globe. In addition, the stringent regulations of the use of synthetic cosmetics and agricultural products in European and North America makes a great promotion of neem seed oil.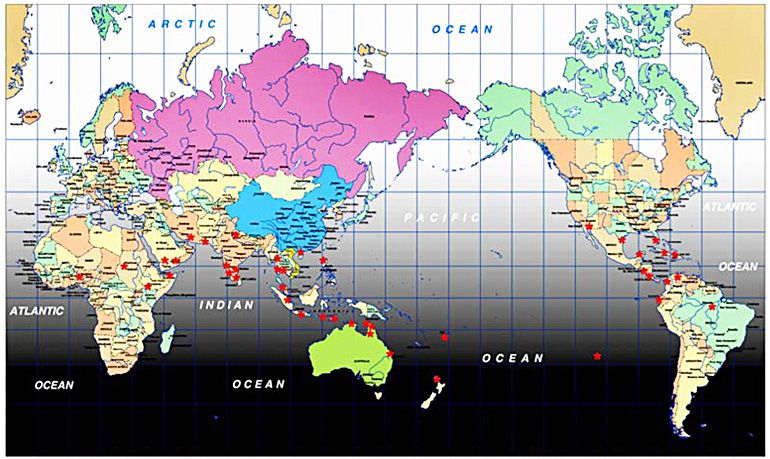 Neem Plant Distribution Country
If you are looking for an automatic oil press machine for neem seed oil extraction, please contact us for the latest price. Or if you have any questions about neem seed oil extraction, such as its extraction process, you can also contact us for professional information!
Request a Quote
We receive enquiries in English, Español (Spanish), Русский язык (Russian), Français (French) and العربية (Arabic).Our professional team will reply to you within one business day.Please feel free to contact us!