It is inevitable that your
screw oil press
have some mechanical problems in daily use. These problems may be caused by raw materials, the machine itself, the temperature of pressing cage, the operations and other factors. Well, this article focuses on the problem that there are no oil cake coming out from screw oil press machine.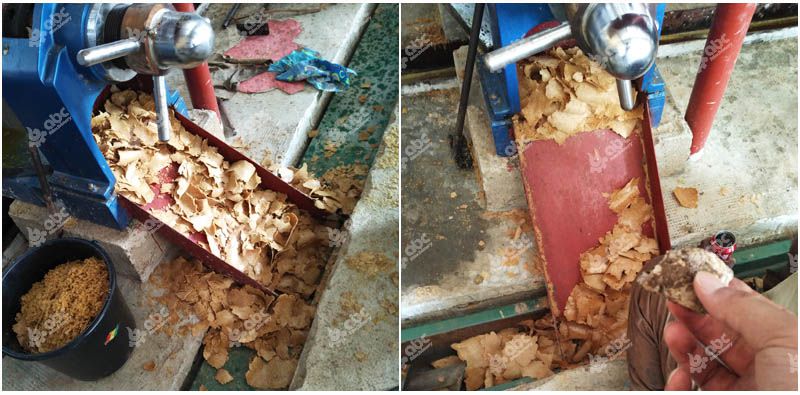 Screw Oil Press No Oil Cake - Problems & Solutions
Unqualified raw materials
Reason: If the raw material has been stored for a long time, undoubtedly, the oil content of the raw material is largely evaporated or deteriorated with the increase of air drying and oil loss of too long storage time. So, it may get oil cake.
Solution: It is simple to solve this problem, just get new and qualified raw materials to change the old and deteriorated ones. We suggest that the storage time of raw material is better no more 5 years.
The screw oil press machine is seriously blocked in the whole pressing parts
Reason: Although the outlet of oil cake is very smooth, when the oil line of screw oil press is chocked up, all the pressure and torque will gather in the outlet of oil cake, which causes erecting of oil cake and leads to the oil get out from pressing nut.
Solution: Disassembly all the pressing bar and assembled, then the problem will be tackled.
The temperature of pressing cage is extremely high
Reason: Too high temperature of pressing cage will cause no oil getting out in the oil outlet and no oil cake getting out from the oilcake outlet, even the oil and oil cake are got out together from oil cake outlet.
Solution: Reducing the temperature of pressing cage will be ok to get the oil cake out.
Request a Quote
We receive enquiries in English, Español (Spanish), Русский язык (Russian), Français (French) and العربية (Arabic).Our professional team will reply to you within one business day.Please feel free to contact us!