ABC Machinery is now one of the largest oil processing machinery supplier in China, with its headquarter in Anyang, Henan. Since 1990s, we has engaged in designing and manufacturing the most cost-effective oil press machines for various vegetable plant seeds, including sesame, palm kernel, groundnut, sunflower seeds, mustard seeds, rape seeds and more. With years of development and improvement, our sesame oil press has been well recognized by customers all over the world. And it is a great choice to set up your own sesame oil processing plant. (Read more about Cottonseed Oil Mill Plant >>)
How to Set up Sesame Oil Processing Plant?
Sesame oil manufacturing process is relatively complicated, but, backed with the advanced oil extraction machine, it will become easier to set up an efficient oil manufacturing plant factory for sesame oil. To ensure high quality sesame oil and long-term profits, the oil manufacturing factory should include the whole process for sesame oil production, including sesame seed treatment, such as cleaning, cooking, sesame oil pressing and sesame oil refining. (You may also like Soybean Oil Production Plant >>)

Process of Sesame Oil Manufacturing
Sesame seed has rich oil content, it is a very great raw materials for vegetable oil in Asia, Africa and more. Sesame oil contains 41% linoleic acid, 39% oleic acid, 8% palmitic acid, 5% stearic acid and other fatty acids components. The detailed manufacturing process of sesame oil is as follows.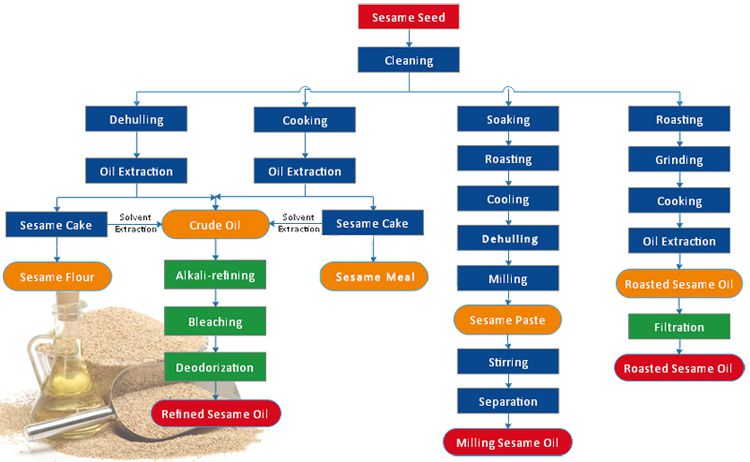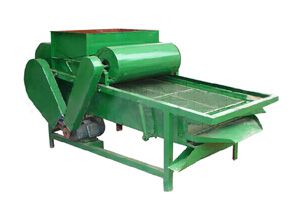 Cleaning of Sesame Seeds: In order to protect the oil processing machine, ensure smooth sesame oil manufacturing process, improve the quality of sesame oil, it is necessary for any sesame oil factory to get the raw materials cleaned and of high quality. It can be achieved by using professional cleaning equipment or destoning machine to get rid of the organic impurities and ironic impurities.
Softening of Sesame Seeds: This process is to soften the sesame seeds by adjusting its temperature and moisture for best flaking results. Generally, when the softening is done, the moisture is kept on 7% around and the temperature is about 47~50℃.
Flaking: In order to maximize the oil yield of sesame seeds, it is recommended to have the process of flaking since it can destroy the cell tissue of sesame seeds and enlarge the contact areas of oil pressing.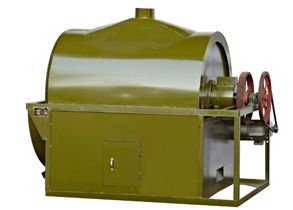 Cooking: In order to meet the oil pressing standards and get higher oil output and maintain the fragrances of sesame oil, cooking is the most common and effective manufacturing process to process the sesame seed flakes. Normally, there are many cooking equipment for this process, including electric cooker, steam cooking machine and more, among which electric cooker is suitable for small or medium scale oil factory and steam cooker is more preferred by large scale oil processing plant.
Sesame Oil Pressing: Since more and more people now pursue healthy living style, the mechanical sesame oil extraction method is now overwhelmed chemical solvent extraction. The screw type oil expeller press is now the most popular and effective sesame oil processing machine. It squeezes oil out from the sesame flakes by mechanical forces instead of adding any chemical solvents. The main oil pressing part of screw oil press machine is the pressing rings and pressing bars that are installed in the pressing cage with scientific sequences. For different customer's requirements, our sesame oil extraction press can be divided into 3 phases pressing and 4 phase pressing. The former is more suitable for hot pressing and the later is ideal for cold pressing. Surely, the whole sesame oil manufacturing process is decided by the actual oil processing requirements and specific oil pressing technology.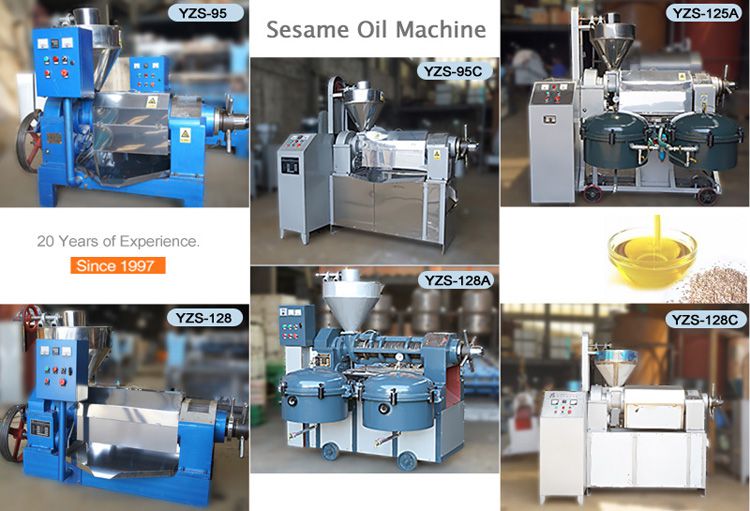 Sesame Oil Manufacturing Machine for Sales (Capacity:1T/D ~20T/D)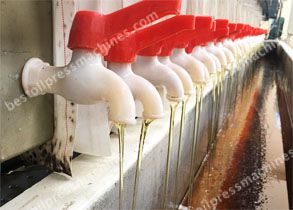 Crude Sesame Oil Filtration: Generally, it is inevitable to have some impurities in the crude sesame oil. But, crude oil filtration can only remove the large organic impurities. High quality sesame oil should be refined by professional refining machinery to remove smaller solid impurities, free fatty acids, phospholipids, colloid, wax, pigment, odors and others.
Sesame Oil Refining: The edible oil refining process normally includes degumming, deacidification, decolorizing and deodorizing. Through professional oil refining process, the final sesame oil is guaranteed high quality, which makes it more favorable for human body.


Sesame Oil Filling and Packing: oil filling and packing is recommended for a professional sesame oil processing plant, since through this process, the sesame oil can be directly sell in the market.
From above sesame oil manufacturing process, it is pretty clear about how to start an oil processing factory for sesame oil. The main equipment involved into the whole sesame oil manufacturing are cleaning machine, cooking machine, flaking machine, screw oil press, oil filter equipment and oil refinery machinery. However, it is not the irrevocable equipment selections. Based on actual production conditions and requirements, our professional engineers will offer a BEST sesame oil processing plant for you! Any time you feel interested in our products, please contact us!
Request a Quote
We receive enquiries in English, Español (Spanish), Русский язык (Russian), Français (French) and العربية (Arabic).Our professional team will reply to you within one business day.Please feel free to contact us!