Start Castor Oil Production Business
Castor oil is a vegetable oil obtained by compressing or squeezing the seeds of the castor plant. The extraction of castor oil is a profitable venture that rewards many manufacturing companies with incredible profits and returns in many regions, such as India, Jamaica, Colombia, South Africa, Nigeria, Zimbabwe, Kenya, etc. Are you always trying to start your own castor oil making business, but don't know how to begin. (Related Post: Oil Making Machine for Business >>)


Start Castor Oil Production Business
What Equipment Castor Oil Production Needs? How to Select It? Where to Buy It?

What is the Total Cost Start Castor Oil Production Business?

How Much It will Cost to Setup a Small Size Castor Oil Extraction Plant?

Where can Get the Technical Guidance about Castor Oil Processing?

How to Get FREE Customized Business Plan?
Actually, the cost of establishing a Castro Oil Processing Plant is greatly related with machinery type and production output. This article will help you to know more about castor oil manufacturing plant setup cost, castor oil extraction machinery and castor oil production process.
Castor Oil Production Machinery for Sales
The castor oil production machine provided by ABC Machinery features high quality, factory price, easy operation, less maintenance, high efficiency, superior performance, etc. Below is the main castor oil processing machinery and castor oil refinery machine. If you are interested in any, please do not hesitate to contact us to get FREE quotation!
Castor Oil Extraction Machine
| Type | Capacity | Power | Color | Remark |
| --- | --- | --- | --- | --- |
| Mini Castor Oil Machinery | 40-60KG/H | 5.5KW | Green, Blue or Customized | / |
| Castor Oil Press Machine | 60-850KG/H | 5.5-30KW | Blue or Customized | can be designed with heating tube |
| Automatic Castor Oil Extraction Machine | 150-500KG/H | 13.6-23.9KW | Grey or Customized | with oil filter and heating system |
Small Castor Oil Pressing Line
Castor Oil Production Plant
Capacity
Castor Oil Etraction Method
Cost
Small Scale
5-50TPD
Mechanical Pressing
$7,000 above
Medium Scale
30-50TPD
Mechanical Pressing or Solvent Extraction
Contact Us for Latest Price List
Large Scale
>50TPD
Pre-pressing and Solvent Extraction
Contact Us for Latest Price List

Please Note:

the exact cost of a castor oil production plant is decided by many aspects, including the equipment, capacity, processing methods and more. Please contact to get the exact cost.
Castor Oil Refinery Machine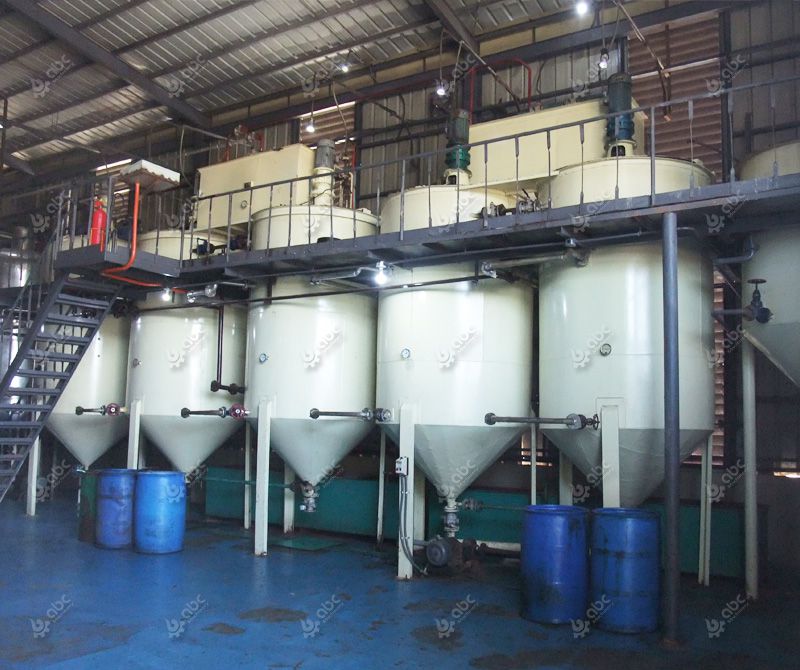 Semi-continous Oil Refinery
| Castor Oil Refinery Plant | Capacity | Features |
| --- | --- | --- |
| Batch type | 1~30TPD | suitable for small scale castor oil manufacturing plant |
| Semi-continous type | 10-50TPD | suitable for medium scale castor oil manufacturing plant |
| Continous type | >50TPD | suitable for large scale castor oil manufacturing plant |

Castor Oil Manufacturing Process - Extraction & Refining
Industrial or commercial castor oil production include several oil manufacturing process, such as castor seeds processing, oil extraction and oil refinery. The castor oil extraction is divided into mechanical pressing and solvent extraction based on the production capacity, investment and requirements. For small scale castor oil production plant, mechanical pressing method is more cost effective, while for the large scale castor oil manufacturing, solvent extraction method is more suitable. (Read more about Mini Oil Mill Project Cost >>)
Just like other vegetable seeds, the castor beans will be processed before oil extraction. Firstly, check the castor beans. Is it wet or dry. If the castor bean is wet, it should be dried and then dehulled to get rid of the shells to get the castor seeds. Then, the castor seeds are cleaned through cleaning machine to remove impurities, metals, etc., later is cooked by steam cooker or electrical cooker to concrete the protein so as to improve the oil extracting rate. (Related Equipment: Oilseeds Cooking Machine >>)


Castor Oil Production Process - Mechnical Pressing
Castor Oil Pressing or Extracting
The processed castor seeds are loaded into the Screw Oil Press Machine (small scale castor oil press machine) to squeeze oil out from the seeds. If the castor oil manufacturing plant adopts solvent extraction, after pressing by the screw oil expeller, the oil cake is crushed into coarse meal for next solvent extraction.


Castor Oil Extraction Process - Solvent Extraction
The crude castor oil both from the mechanical pressing or solvent extraction should be refined to get the pure and functional castor oil. The castor oil refining process includes degumming, neutralization, bleaching, deodorization. Degumming is to remove hydrates, phosphates and other impurities. The gum is then processed in to lecithin. The neutralization is to remove residual phosphatides by caustica refining.The bleaching process is to colors, odors and other impurities and residual soaps. The deodorization is to remove volatile flavors, odors and odors compounds. (Related Post: Mini Oil Refinery Plant Cost >>)

Castor Oil Refining Process

Castor Oil Production Business Plan
An individual that wants to start castor oil production business or firm should first consider having a castor oil production business plan. This is a vital plan of action a business creates to penetrate the market and also to maximize profits in the business. Some of the techniques to consider in starting a successful castor oil production business are:

Learning More about Castor Oil Production
This is the first step in starting an oil production company or firm. An entrepreneur should study the requirements of an oil manufacturing firm in terms of capital, market, competition and technology. The business owner should also create a strategy and plan. This includes a target market, proposed location, capital start-up, finances, and other operating cost. It is important to note that before choosing a place for the oil processing firm one should consider the availability of raw materials, mode of transport and also the market. A suitable location will be very close to the raw material sources and the targeted market which reduces transportation and supply costs
Ensure Stable Castor Beans Supply
A business that wants to venture into oil production has two options required to obtain raw materials for castor oil extraction. One way is a business having its farm of oil seeds cultivation or buying oil seeds from the supplier. A potential business should choose an option that will reduce the cost of production and other operating costs.
Obtaining Funds and Finances
If an individual requires funds for buying products, materials and other resources then he or she should plan ways of obtaining funds for the business. If the manufacturing plant depicts the business to be lucrative and promising then it will attract investors and one can easily obtain funds from lending institutions and banks.
Select Suitable Castor Oil Processing Machinery
One should be able to choose a processing line that comprises all necessary machines with durable and solid structures with good compatibility and fine properties. The plant or machine should be portrayed as being of reasonable cost, safe, excellent quality, continuous operation and highly advanced in technology.
Scientific Management on the Castor Oil Plant
After the castor oil processing plant completed, it is important to carry out scientific management on the employees/operators. At the same time, a good businessman would be keen to have the suitable ways of marketing and distributing the product into different areas and localities.

Castor Oil Manufacturing Plant Project Report
ABC Machinery is established with a vision of providing customers with quality oil mill machinery, reliable service and fair prices. We are an expert in vegetable oil processing sector. We can supply various oil production machinery and boast strong ability to undertake the Turnkey Project of Oil Production Plant. Below is a new project of castor oil manufacturing plant we built recently in Colombia. If you are interested in our castor oil processing machinery or want to setup a copmlete castor oil manufacturing plant, please do not hesitate to contact us, we will help you on the machine selection, business plan and more with the aim to minimize your investment cost and maximize your profits!


Castor Oil Production Machinery Ready to Colombia



Castor Oil Manufacturing Plant Installed in Colombia
Request a Quote
We receive enquiries in English, Español (Spanish), Русский язык (Russian), Français (French) and العربية (Arabic).Our professional team will reply to you within one business day.Please feel free to contact us!