ABC Machinery stands by the legacy of high performance, durability and quality, and focuses on developing efficient and powerful oil processing machinery to meet the needs of oil making all at a factory price. We designs products that empower our customers to tackle oil making problems with ease, the sesame oil press machine is one of the most cost effective oil processing equipment to make high quality cooking oils.
What's Sesame Oil Press Machine?
The sesame oil press is a new type of screw oil press machine that makes use of the pressing rings or pressing bars to extruder oil out from sesame seeds. Compared to other sesame oil presses in the market, the sesame oil press machine we supply can squeeze sesame materials evenly, which can optimize the oil out output. In addition, the oil extracted by our sesame oil machine is of high quality, bright color and full fragrance. Our sesame oil press machine boasts strong capacity, stable and efficient performance. Most importantly, it is priced lower than other type of oil production machinery, but can achieve the same sesame oil production results.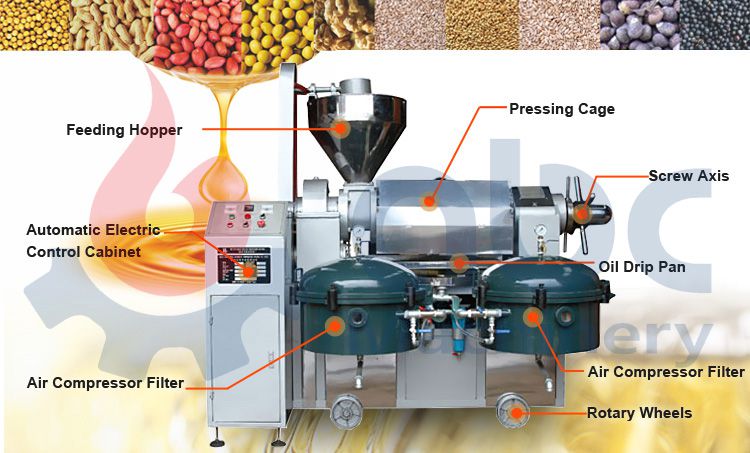 Sesame Oil Press Machine Structure
Reasons to Choose Our Sesame Oil Press Machine
Higher Oil Yield: improved feeding system and updated pressing cage for oven oil squeezing
Easy Operation: automatic oil pressing machine requires less efforts and labors for stable oil pressing
Cost-saving: less maintenance, longer service life, high quality, and highly efficient oil production all together for low cost sesame oil production.
Lowe Prices: we are the original manufacturer of sesame oil press machines, there are no more medium price. You can get the most competitive factory direct supply price.
Wide Application: this oil press machine is not only suitable for sesame oil production, but also can process a very wide range of vegetable seeds, such as mustard seeds, sunflower seeds, rape seeds, hemp seeds, prickly pear seeds, soya, copra, castor, and more.
Something about Sesame Oil


As an edible oil, sesame oil is extracted from sesame seeds normally by screw oil press. Sesame oil features a natty aroma and great taste, making it a popular cooking oil in Asia, Africa and more. In fact, sesame oil can be divided into two types, one is used as frying oil, and the other is used as a seasoning oil. Among the cooking oil, sesame oil, with high smoke point, is not likely to rancid, since it contains natural antioxidants despite of its high content of polyunsaturated (omega-6) fatty acids (up to 41%). The main sesame oil markets are in countries in Asia and Middle East, such as China, India, Korea, etc.. And the world's sesame seeds are mainly used to produce sesame oils or used in food.
Top Sesame Oil Producing Countries
The world's largest sesame oil producing countries are the United Republic of Tanzania, Myanmar, China, India, Japan, South Sudan, and Sudan and more.
| Rank | Country | Tonnes (Metric Tons) |
| --- | --- | --- |
| 1 | United Republic of Tanzania | 544,293 |
| 2 | Myanmar | 318,000 |
| 3 | China, mainland | 234,000 |
| 4 | India | 108,000 |
| 5 | Japan | 45,441 |
| 6 | South Sudan | 42,500 |
| 7 | Sudan | 41,900 |
| 8 | Turkey | 32,250 |
| 9 | Republic of Korea | 29,466 |
| 10 | Uganda | 24,600 |
| ..... | .......... | ............. |
ABC Machinery dedicates to supply the premium quality oil milling equipment and oil processing plant projects at low factory price, just like our sesame oil press machine. For customer convenience, we will customize the BEST oil production plan and ensure oil press equipment is well worth what you paid. If you have any questions or want to the latest price of our sesame oil press machine, please let us know!
Request a Quote
We receive enquiries in English, Español (Spanish), Русский язык (Russian), Français (French) and العربية (Arabic).Our professional team will reply to you within one business day.Please feel free to contact us!