Corn Germ & Corn Oil
Corn oil, also known as corn germ oil, is derived from the corn germ. The fat content of corn germ is between 17% and 45%, accounting for about 80% of the total fat content of corn. The biggest feature of fatty acid in corn oil is that its unsaturated fatty acids content is up to 80% ~ 85%. Corn oil itself does not contain cholesterol and it has a dissolving effect on the accumulation of cholesterol in the blood, so it can reduce the effect of hardening on blood vessels. It has active prevention and control effect on senile diseases, such as arteriosclerosis and diabetes. Because of the natural compound vitamin E, corn oil has obvious curative effect and preventive effect on heart disease, thrombophlebitis, reproductive dysfunction, muscular dystrophy and nutritional encephalomalacia. That's why more and more people tend to corn oil and it is now a very important vegetable oils in global market. (More information about oil processing at Oil Processing Plant>>)

Corn Oil Processing Machine for Sales
If you are determined to start corn oil manufacturing business, get a best corn oil machine is one of the most important process. ABC Machinery is a professional oil processing machinery supplier and has been established a lot of oil mill plants for different oil seeds. We are expert about corn oil processing and we supply high quality automatic corn oil processing unit to easily solve corn oil pressing process. Below is the main structure of our automatic corn oil pressing machine. It is now the most popular oil processing machinery for small or medium scale corn oil production line.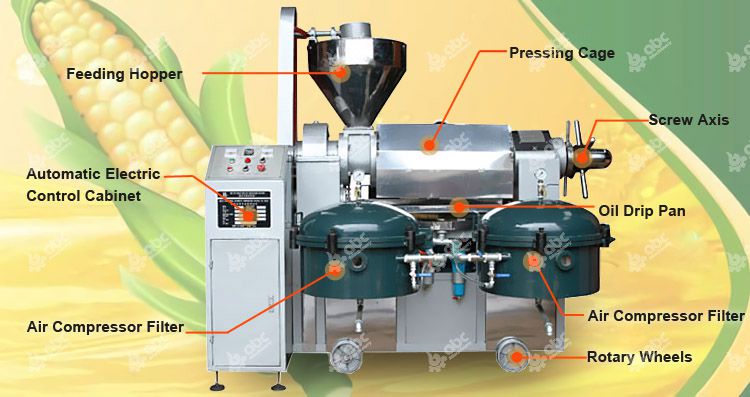 Unlikely traditional corn oil machine, our automatic corn oil processing machine has six biggest features.
Designed with completely automated electric control cabinet to increase the temperature automatically and stably, which finally ensure maximum corn oil output.
The pressing cage and shaft axis is equipped with electrical heated tube, so it saves time of pre-heating of the corn oil machine.
Highly efficient air pressure oil fiters provides direct filtration for crude corn oil.
Stable feeding hopper & Stainless steel oil outlet pan and pressing cage cover & movable rotatory wheels
Applicable for other kinds of plant seeds or nuts, including rice bran, tea seed, sunflower seeds, peanut, soybean, flaxseed, , camellia seed, sesame seed, castor bean, and more.
It can easily set up a small scale or medium scale corn oil processing factory.
Request a Quote
We receive enquiries in English, Español (Spanish), Русский язык (Russian), Français (French) and العربية (Arabic).Our professional team will reply to you within one business day.Please feel free to contact us!