From August 19th to 2th September 2018, our director who is in charge of Indonesia oil production market and the project manger of palm oil processing had a business visit to Indonesia. This trip mainly focused on the business negotiation with our former customers, potential customers and local officials and business investors. In addition, we also had an in-depth investigation and study about the oil production industry of Indonesia, especially the palm oil mill industry.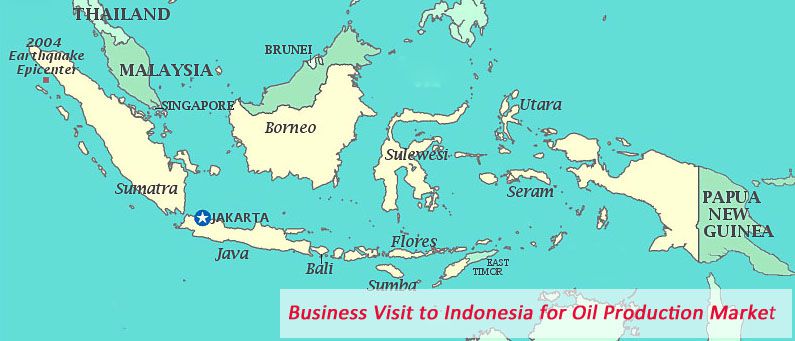 Indonesia Oil Palm Distribution
In terms of geographical distribution, the main producing area of Indonesian palm oil is Sumatra, and the palm planting area and output of Sumatra account for 80% of Indonesia's total production. Palm oil is grown and produced in

19

provinces across the country, including North Sumatra, West Sumatra, South Sumatra, West Java, etc.
Face-to-face Meeting with Oil Production Investors in Indonesia
During two week's trip in Indonesia, our technical director Mr. Xiao and project manager Mr. Yan met many customers and promptly and patiently answer their questions related to the oil processing technology and oil mill machinery. The solutions or the project design they provided for the customers were completely accordance with local production conditions.
According to the information offered by local oil mill investors and the first hand analyze data, Indonesia oil processing industry is profitable due to its rich oil palm. Although there are limitations for palm oil industry, such as the deficiency of basic support system, low labor productivity, it is still promising for Indonesia palm oil mill industry. Our company has rich experiences in turnkey palm oil mill project, we can provide advanced oil processing technology and high quality equipment to ensure the long-term profits of the oil mill plants. In addition, we also offer comprehensive training system for clients to improve the labor productivity. More information about this visit, please directly contact and let us know what you want to know most!
Indonesia Palm Oil Industry
Since 1970, palm oil has become Indonesia's fastest growing economic crop. In the 20 years from 1986 to 2006, Indonesia's palm planting area increased nearly 10 times, totaling 607,000 hectares to 6.075 million hectares; palm oil production also increased more than 10 times, from 1.64 million tons to 16.1 million tons. Indonesian palm plantations have long had three main business models: large private plantations, state-owned plantations and small-scale plantations for individual farmers. In the past ten years, in order to adapt to the international market and price fluctuations, the palm plantation model structure has undergone major changes. It has gradually shifted from government-led and controlled markets to private sector operations and market self-regulation. The area of plantation and the proportion of production of state-owned decreased, and the area and output of large private plantations increased to become the pillar of the palm oil industry. The area and proportion of individual farmer plantations increased, and the growth momentum was the strongest.


For the small scale palm plantations, small scale palm oil mill plant and small scale palm oil refinery equipment can be ideal for them to changes the oil palm into high quality palm oil. It requires low investment, easy to operate and ensure high efficiency.
Through this business trip, we have much deeper understanding about Indonesian edible oil processing market, and are more confident about the cooperation with locale investors, especially individual farmers. There has a great market potential of oil processing, especially palm oil industry. If you are also interested in it, please contact us for professional suggestions and solutions!
Request a Quote
We receive enquiries in English, Español (Spanish), Русский язык (Russian), Français (French) and العربية (Arabic).Our professional team will reply to you within one business day.Please feel free to contact us!