ABC Machinery offers premium quality machinery for various oilseeds crushing and refining to make cooking oils, including sunflower seeds, palm kernel, soybeans, cottonseeds, groundnuts, rapeseeds and more. The screw oil expeller, the core of oil crushing system, and the edible oil refinery machinery, the core of oil refining system, we supplied have been widely used in many cooking oil production line around the world.
Key Oilseeds Crushing and Refining Machinery
Cooking oils need to be pressed from the oilseeds, nuts or other oil-containing crops by professional machines. Spiral type oil press expeller has been historically used for extraction of oil by squeezing the raw materials under the influence of high pressure. These are screw-type machines, which press the raw materials in a barrel-type cavity, while the oil is pressed through cavities present in the barrel and discharged from the oil drip pan to get the crude oil, while the remaining dry matter, called oil cake, is derived from the terminal opening of the barrel. The oil cake, containing rich proteins and other substances, is great materials for feeder.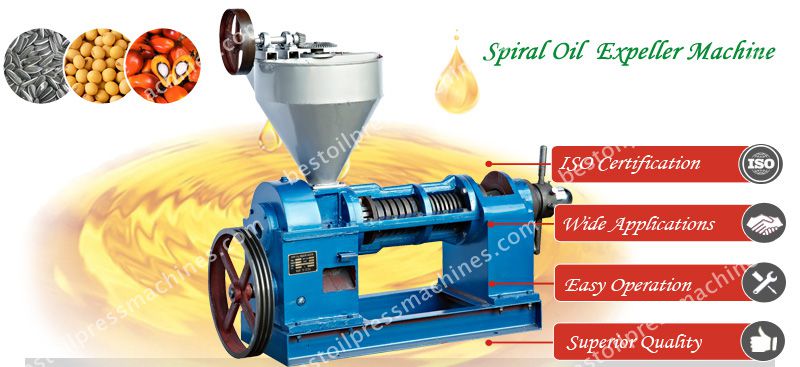 Spiral Oil Expeller Machine

Crude oil contains many useless or unhealthy oil soluble and oil non soluble substances that will have bad impact on the quality of cooking to some extent, therefore, the edible oil refining machine is adopts to remove all these substances and greatly improve the quality of oil crushed from the oilseeds. Oil refining system includes a series of processes, in which impurities of the raw oil are removed. The typical oil refining processes include degumming, neutralization, bleaching, winterization, and deodorization.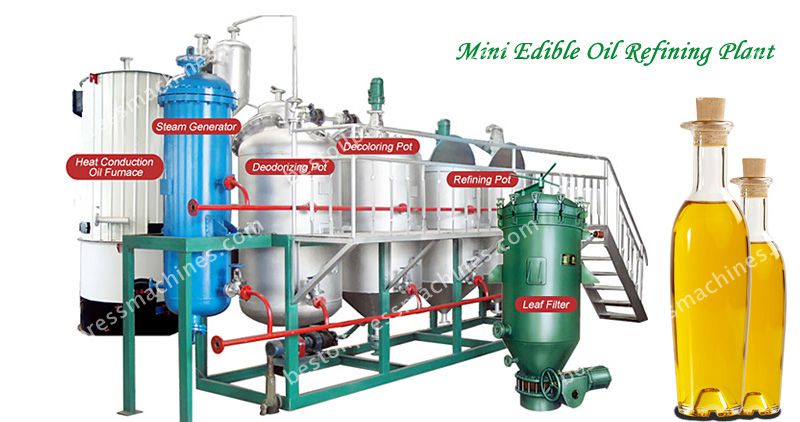 Mini Oil Refining Plant

Degumming is the first step of refining, in which hot water is passed through the oil along with agitation, which precipitates the water-soluble high molecular weight impurities, such as proteins, gums, and phospholipids. This oil is neutralized using an alkali, during which free fatty acids, waxes, and pigments are removed. This oil is bleached by using activated-carbon, followed by heating, filtration, and drying. Winterization of this oil by holding at refrigeration temperature allows removal solids, such as triglycerides and waxes. The volatile compounds responsible for off-odor are removed in the next step by passing steam through it. Finally, the keeping the quality of the oil is enhanced by the addition of antioxidant chemicals, such as BHA and BHT. The oil is, then, either packed for the purpose of storage and retailing or other purposes.

How to Setup Small Scale Oilseeds Crushing and Refining Plant?
For small scale oil crushing and refining plant, oil crushing is performed using small screw oil presses, which is a semi-auto or full automatic process, while, the oil refining is performed using mini or small edible oil refinery unit. In addition, there are also some equipment and machinery that is needed to process the oilseeds before pressing. For example, if raw material groundnuts are within shells, it is necessary to get the peanut sheller to remove the shell. (Recent post: Mini Oil Mill >>)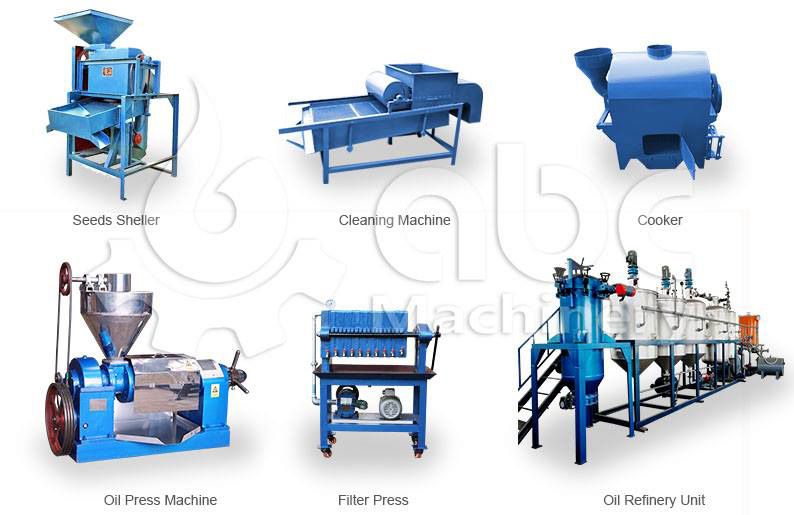 Small Scale Oilseeds Crushing and Refining Plant

The typical equipment and machinery for oilseeds crushing and refining machinery are cleaning machine, flaking machine, cooking machine, oil pressing machine, oil filtering machine and oil refining machine and more. The setup of a small scale oilseeds crushing and reefing plant is just connecting all the required equipment together. Small type oilseeds crushing and refining system requires low investment, simple equipment and is easy to operate and available for various oilseeds, such sunflower seeds, soybean, rapeseeds, palm kernels and more. Therefore, it is now the most popular oil mill business in the world, especially in Africa, Asia, South Africa and more.
The efficiency of oil plant mainly depends upon the oil pressing and oil refining equipment, so, it is very important to choose a reliable manufacturer or supplier to ensure the smooth of the whole oil mill plant operation. If you have any questions about above mentioned information, please contact for more details.
Request a Quote
We receive enquiries in English, Español (Spanish), Русский язык (Russian), Français (French) and العربية (Arabic).Our professional team will reply to you within one business day.Please feel free to contact us!