The mustard oil mill machinery refers to a type of industrial machine or home use equipment used to produce oil from the mustard seed. In addition to mustard oil, the machine can also produce a byproduct of the process in the form of the so-called cake or solid piece of compacted waste material left after the processing of squeezing out oil. The mustard oil comes from the mustard seed and the plant with the same name. The mustard oil milling machine basically utilizes serveral consecutive steps to produce the finished oil product. The mustard oil production process are cooking, pressing, filtering and refining. (Read more about Mini Mustard Oil Mill Plant >>)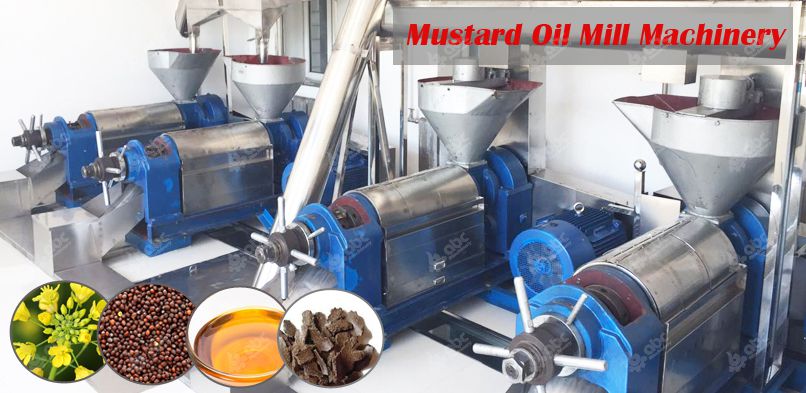 Mustard Oil Manufacturing Process & Machinery
As mentioned before, prior to this mustard oil pressing, the seed raw material must undergo pretreatment processes of selecting, cleaning, flaking and cooking. The first step refers to the process where seed material selection and heating of the seed mash occurs. This is for the purpose of making the raw material more concentrated and therefore likely to produce more oil. The machinery in pretreatment process play a supporting role for mustard oil extracting. These are destone machine, cleaning sieve, flake, cooker and more. (More equipment at Oil Mill Auxiliary Equipment >>)


Mustard Seeds Cleaning Sieve & Cooker
The prepared seeds go into the machine and the press exerts massive amounts of physical pressure to huge batches of seeds to squeeze out the oil. For the second process of pressing, the following occurs: the mustard oil press uses mechanical pressure to extract the oil and this is done without the need for any chemical additive. The equipment used can be of three types namely single screw oil press, auto-temperature control oil machine and automatic oil expeller. They have a screw mounted in the pressing cage to squeeze oil. In the case of starting mini, minimum size, medium scale mustard oil plant, single mustard oil press and automatic mustard oil machine are welcomed by many investors. The mustard oil expeller machine price is a very important part to lower the cost of mustard oil machinery. However, ABC Machinery offers all equipment at factory price to lower the cost on starting!


Mustard Oil Mill Machine at Factory Price
Technically, this machine can function in two "pressing" modes to extract the oil. These are the cold pressing mode and the hot pressing mode. The former occurs at a relatively low temperature and is carried out to make the final product much easier to refine. The latter process uses external heat to heat the raw material and hence make it easier to extract more oil than from a cold process. For this method, the temperature normally averages above 110 degrees centigrade. This is higher than the boiling point of water. The final process is filtering. Here, the oil passes through professional oil filter machine, a part of mustard oil mill machinery, where there crude mustard oil is filtered.
Filtered mustard oil is highly recommended to into oil refining plant to produce high quality final oil. Refining is a indispensable process for edible oil manufacturing, especially for complete oil mill plant. It is basically composed of degumming, deacidification, decolorizing and deodorizing. All the useless, unhealthy and organic impurities are removed after refining process. Mustard oil manufacturing involves a series of process, correspondingly, complete mustard oil mill machinery not just focuses on one or two equipment. For business purpose, complete equipment will ensure the quality final mustard oil, while further helps to enlarge the production capacity and guarantee the profits.


Mini Mustard Oil Refinery Unit
Who Saves Machinery Cost for You?
ABC machinery is highly professional mustard oil mill machinery manufacturer and supplier. We provide you with high quality and reliable equipment, comprehensive before and after sale service, most importantly, the favorable low cost. Our machinery has been exported to many countries, and we have help our customer establishing complete oil mill plant for various vegetable seeds. We insist quality and efficiency are always in the first priority for you! We can help you to lower the cost of mustard oil plant from many aspects. If you have any interests in buying mustard oil mill machinery or setting up mustard oil plant, or mustard oil business plan, please contact us for more imformation!
Request a Quote
We receive enquiries in English, Español (Spanish), Русский язык (Russian), Français (French) and العربية (Arabic).Our professional team will reply to you within one business day.Please feel free to contact us!