ABC Machinery, with years of experiences in manufacturing oil processing machinery, is your trustable supplier of moringa oil extraction machine. The integrated oil machine is ideal for moringa oil extracting. It is designed with automatic control system, air pressure oil filters, movable rotate wheels and more. Mostly importantly, it can also process other oil-bearing seeds, including grape seeds, prickly pear seeds, tea seeds, rapeseeds, soybeans and more. Below is the detailed information about YZS-95A integrated moringa oil extraction equipment. (Read More about Integrated Oil Extraction Equipmemt>>)
Moringa Seed Oil Extraction Machine
The integrated moringa oil extraction machine is mainly composed with four parts: material feeding hopper, oil pressing chamber, automatic electric control cabinet and air compressor filters. Different from traditional oil extraction equipment, this new type integrated oil extraction machine has three biggest features in its designs that both works together for highest oil output and purer oil pressing.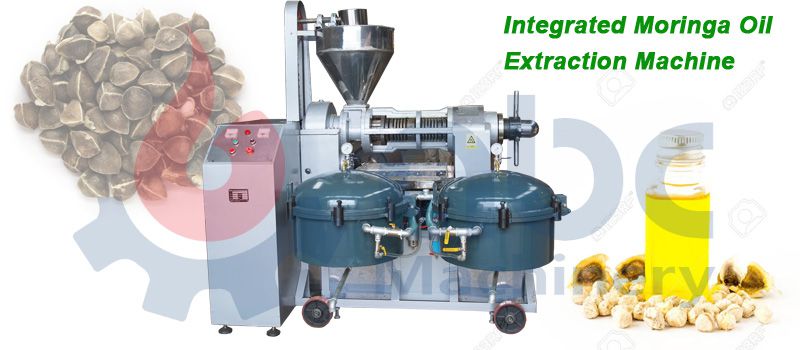 Built-in Electrical Heated Tube: There are built-in electrical heated tube in the pressing cage and screw shaft where oil extracting process take place. Thus it can greatly improve the pre-heating time when starting on the oil extraction equipment. Very practical and reliable design for oil extracting process.
Automatic Electric Control Cabinet: The electric control cabinet can monitor the pressing temperature of pressing cage automatically, which offers great conveniences for operator to check out the oil extracting temperature and increases the reliability in use. And, it also increases the oil yield.
Air Compressor Oil Filters: The air compressor oil filters installed underneath the stainless steel oil tray can directly remove large organic impurities of the crude oils. This type of oil filter equipment is now the most advanced oil filtration machine. Compared to other types, it can get the purest filtration results no matter how much the oil need to filter. With fast speed of oil filtering, it has high efficient. More importantly, there are no more hassles on the replacement of oil filtering clothes.
Technical Data of YZS-95A Integrated Moringa Oil Equipment
Model
Capacity
Power
Weight
Dismension
YZS-95A
150kg/h ~ 200kg/h
Total Power
16.4Kw
910Kg
1900*1300*1750mm3
Pressing Power
11Kw - 6P
Main Shaft Heating Power
1.8Kw - 200V
Pressing Cage Heating Power
0.8Kw - 200V
Air Compressor Oil Filter
2.2Kw - 380V
The YZS-95A integrated oil expeller machine is now the most popular
oil extraction unit
in oil making market due to its compact design and powerful oil processing ability. It is easy to use for any operator and requires less maintainences. In addition to moringa seeds, it can also extract oil out from many different plant seeds, including niger seeds, tea seeds and more.
Please do not hesitat to get one for your moringa oil extraction business, contact us for the latest discount price and detailed information!
Benefits of Moringa Oil
Moringa seeds are produced by a plant called Moringa Oleifera alias "tree of life". They have been in use for so long that even their benefits can be attested by facts and researches. Additionally, the oil extracted from the moringa seeds has a lot more benefits to human health.
Moringa seeds oil can be the perfect remedy for dealing with blood sugar level in your body. It reduces the blood sugar level by simply triggering production of more insulin in your body, which makes moringa oil a good preventive measure against diabetes.
If you want to achieve ultimate skin complexion and smoothness, moringa seed oil is a great choice. It has vitamin A and C which are quite essential in production of collagen. Collagen is basically responsible for skin strength, firmness and elasticity. It ultimately makes your skin look great and beautiful.
Moringa oil is also not left at behind in keeping toxins and waste material at bay in your body. It contains compounds that are responsible for taking off heavy metals that accumulates in your body. Additionally, it helps to protect the liver from disorders such as hepatitis.
Inflammation could be a threat to our health. But if you managed it well,y ou can live healthier and longer. One of the ways to drastically reduce inflammation is to use moringa oil. It contains anti-inflammatory properties that minimizes inflammation in your body.
We are the top manufacturer of various oil production machine in China. In addtion to provide single oil press machine, We also have strong competitiveness in undertaking vegetable oil processing plant turnkey projects for various edible oils, including peanut, soybean, cottonseed, canola, sunflower seeds, fish oil and more. If you have any interests in our products, please let us know.
Request a Quote
We receive enquiries in English, Español (Spanish), Русский язык (Russian), Français (French) and العربية (Arabic).Our professional team will reply to you within one business day.Please feel free to contact us!