ABC Machinery attains a worldwide reputation for Vegetable Oil Production Line. Due to our strong strength in the design, development, manufacturing of screw oil press machine and crude oil refining equipment, we have received a lot of OEM business at home and abroad in oil processing. Our products are mainly exported to Middle East, Africa, Asia, South America and more. We can offer the BEST business plan and customized oil processing machinery for oil production plants, the capacity ranges from 1TPD to 500TPD, the raw materials can be various oil-bearing seeds, including soya beans, palm kernels, groundnuts, sunflower seeds, mustard seeds and more. (You may also like Soybean Oil Press Machine Supplier >>)
Mini Soya Oil Refinery Unit - 1TPD to 5TPD
If you are looking for an ideal business project in edible oil industry. Soya oil production business would be a great choice, especially for mini or small soya oil making business, since it is easy to setup and operate, most importantly, it requires less investment, but has high profits. Soya oil refinery equipment is one of the most important machinery for edible soya oil processing. (Read more about
Mini Soya Oil Mill Plant
>>)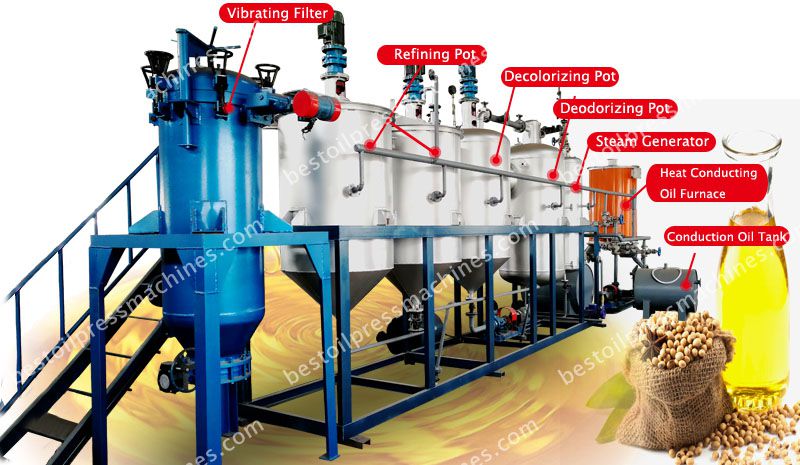 1TPD Mini Edible Soya Oil Refinery Unit
Main Equipment of Mini Soya Oil Refinery Unit
Refining Pot: used for the removal of phosphoric acids, gums and other impurities.
Decolorizing Pot: used for the removal of colors and pigments to ensure the clarification of edible oil
Deodorizing Pot: used for the removal of odors and other unpleasant smells
Vibrating Filter: used for efficient oil filtration
Steam Generator: used to provide steam for the whole oil refining process
Heat Conduction Oil Furnace: used to provide heat source for the whole oil refining process
Crude soya oil still has many oil-insoluble and oil insoluble substances that may be unhealthy or useless for human beings. Soybean oil refinery plant is used to remove these impurities to produce high quality and edible soya oil. For mini or small scale oil business, mini soya oil refinery unit is the most cost effective equipment to remove phospholipids, free fatty acids, gums, odors, pigments and other impurities from the crude soybean oil.


Batch Soya Oil Refining Process
Mini soya oil refinery unit adopts the batch type oil refining method. The main process of batch soya oil refining mainly include degumming, neutralizing, decolorizing and deodorizing. If you have any questions about soybean oil refining process, please get in touch with for professional answers!
Why Choose Our Mini Soya Oil Refinery Unit

Full Functions: It has all the functions of batch oil refining method and can refine crude vegetable oils at lowest cost
Less Space: The whole structure of mini soya oil refining unit is compact, small, light weight and movable, pretty ideal for small scale oil workshops.
User-friendly Operation: It is easy to install, commission, operate and maintenance
Low cost: It requires less cost, land space, less labor. The cost of a mini crude oil refinery unit is $20,000 above (Note: this is just a reference data. the exact price is decided all the complete factors)
Custom-made: Can be customized based on the final purpose of the crude oils. For example, if you only needs some processes of the oil refining, we can offer custom-made oil refining unit.
Super Versatility: It can be easily changed to refine other kind of vegetable oils due to its super versatility for various crude vegetable oils and some animal oils, including peanut oil, palm oil, cotton seeds oil, sunflower oil, mustard oil, seal oil, fish oil, and more.
Customized Mini Edible Oil Refinery Plant Display
We can provide customized mini crude oil refinery equipment for various oils based on the properity of the crude oil, the purpose of final oil, the investment cost, the actual conditions and other factors. In the field of edible oil refining, we are expert and we have rich practical experiences in the installation, debugging and operation, choose us, you can get the quick and reliable technical supports!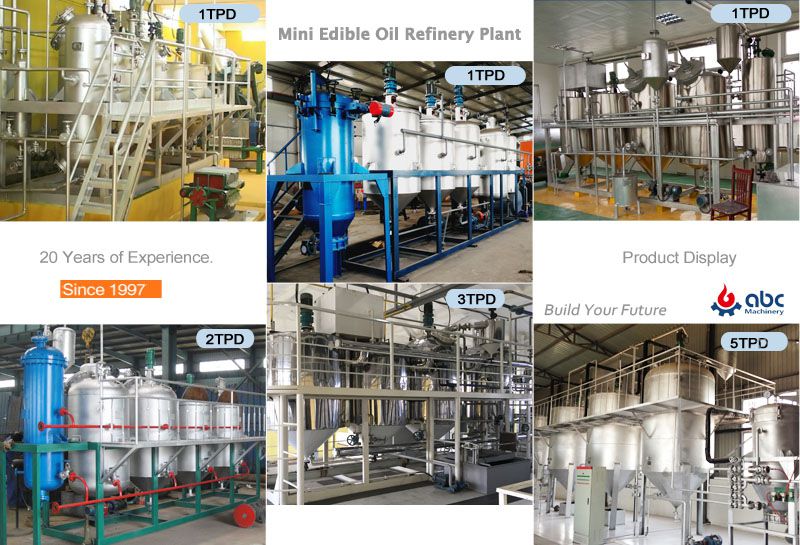 Mini Edible Oil Refinery Units for Sales
Above displayed mini edible oil refinery plant are all the true cases we undertook. In addition, we also provide turnkey projects for comlete soya oil production plalnt, If you want to know more details, such as the installation countries, the crude oil, the equipment cost, please directly contact us for more information!
Request a Quote
We receive enquiries in English, Español (Spanish), Русский язык (Russian), Français (French) and العربية (Arabic).Our professional team will reply to you within one business day.Please feel free to contact us!