Project Name - 30TPD Cottonseed Oil Refinery & Fractionation Plant in Afghanistan (May, 2015 ~ July, 2016)
Location - Mazar-e Sharif, Balkh Province, Afghanistan
Equipment List - Edible Oil Refining Equipment, Cotton Seed Oil Fractionation Line, Automatic Filling Machine, Blow Moulding Machine, Injection Molding Machine, Boiler and more.
Similar Project - 10TPD Edible Oil Production Line for Cotton seeds, Sunflower Seeds and Soybeans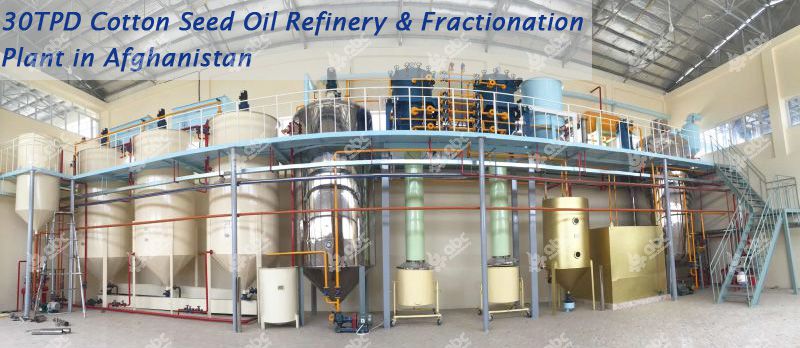 Project Background of 30TPD Cotton Seed Oil Refinery and Fractionation Plant
The customer is a cotton seed oil producer in Balkh Province, Afghanistan, and has a large cotton seed oil mill in the city of Mazar-e Sharif, but no cotton seed oil refining facilities. In fact, there is no any refining equipment, as well as oil refining plant, for cotton seed oil in the local market. However, it is urgent to produce high-quality edible cotton seed oil to meet the local market demand. Afghanistan is a landlocked country and its cooking oil is largely imported. In 2014, Afghanistan imported about 500,000 metric tons of edible oils, or about $490.9 million. Even so, imported cooking oil can't meet the growing market demands. Therefore, the local government offer great supports for the construction of cotton seed oil mill plant and cotton seed oil refinery plant projects. (Read more about Edible Oil Mill Plant Projects>>)
We started to have contacts with this customer at the beginning of 2015. At that time, many supplier and manufacturer want to build cooperation with him, but he decided to sign contract with us in the end. The reasons behind this cooperation are excellent technology, turnkey project, reasonable price and comprehensive and considerate service. According to customer's production demand, we provided him a 30 tons per day cotton seed oil refining and fractionation plant that is designed with oil filling, bottle blowing.

Cottonseed Oil Refinery Equipment Installation Onsite

Cotton Seed Oil Filtration

Cotton Seed Oil Refining Test

Cotton Seed Oil Testing Laboratory & Oil Filling Area

Onsite Picture with Our Customers
The 30 tons per day cotton seed oil refinery project was officially put into production in the second half of 2016. The refined cotton seed oil produced by this project is well welcomed in local market. Sometime, there are even a short supply. And our customer often take the refined cotton seed oil in high grade to participate exhibitions. The normal operation of this cotton seed oil refinery and fractionation plant was completely beyond his expectation. He was very satisfied with our cotton seed oil refining machinery, cotton seed oil refining technology and pre-sale and after-sale services. Our wholehearted service has won his trust. He introduced us for one of his friend who had plan to set up cotton seed oil mill plant. And the new cotton seed oil refining line, with capacity of 10 tons per day, ordered by his friend has completed in March, 2018. (Read more about How to Set up Small Cotton Seed Oil Mill>>)
30T/D Cotton Seed Oil Refinery Plant Technology
The detailed process of 30TPD cottonseed oil refinery and fractionation project is as below. This oil refining technology can be used for various crude oils, including peanut oil, palm kernel, sunflower seed oil, mustard seed oil, rape seed oil, coconut oil and more. But the fractionation process should be added based on the quality of crude oil and production conditions. Anyway, for professional technical consultancy, please directly contract us! (You may be also interested in Crude Oil Refining>>)

Cotton Seed Oil Refining and Fractionation Process
Functions of Cotton Seed Oil Fractionation
The content of oleic acid in cottonseed oil is 14.7%~21.7% and the content of linoleic acid is 46.7%~58.2%, so cotton seed oil is a healthy vegetable oil that is rich in unsaturated fatty acids, especially has high content of linoleic acid. But cottonseed oil also contains a considerable amount of saturated fatty acids, of which the palmitate is 21.6%~26.4% and stearic acid is 1.9%~2.4%. Cottonseed oil, therefore, has high melting point. Under the low temperature, some glycerin triglycerides will occur crystallization and precipitation, which prompted a layered cottonseed oil, even a jellylike on the whole. Thus, this will have restricted effects on the transportation and use of cotton seed oil. Fractionation technology will divide refined cotton seed oil in two forms, in liquid or in solid. The liquid cotton seed oil can be sold as cooking oil and the solid fat of cotton seed oil is very great raw materials of margarine, shortening and frying oil.
Oil refinery machinery is indispensable for every edible oil processing plant to produce high quality vegetable oil. ABC Machinery is a Chinese top manufacturer and supplier of cotton seed oil mill machinery, including cotton seed oil extraction machine in all types and cotton seed oil refining equipment. Every oil processing project we built in the world is guaranteed with high quality and the most competitive price. If there are any needs, please get in touch with us by any possible ways! We are always at your sides!
Request a Quote
We receive enquiries in English, Español (Spanish), Русский язык (Russian), Français (French) and العربية (Arabic).Our professional team will reply to you within one business day.Please feel free to contact us!