In the daily operation, some of customers often encountered various problems with their peanut oil press machine, which will further affect the production of peanut oil or other vegetable oils. What is the reason for this? Actually, more than 90% of these problems are caused by the of the daily maintenance and operation of the peanut oil making machine.


Single Screw Oil Expeller (Left) Integrated Scre Oil Press (Right)
Why Should Pay Attention to Daily Maintenance of Peanut Oil Press?
When we buy a peanut oil machine, we always hope it can bring us profits since we have paid for it. However, we often ignore the daily maintenance of the oil press. If we have purchased the oil extraction machine, neglect daily maintenance, neglect daily operation procedures, it is better not invest, we buy peanut oil press, it is necessary to bring us profit.
In our communication with customers, we will emphasize the importance of daily maintenance of the oil extractor. These years of experiences has taught us that the stability of oil output and oil output of the peanut oil extractor is related to the daily maintenance and operation of the oil extractor. Even if the operation is exactly right, but the maintenance is not done, the peanut oil extraction machine still can't work well.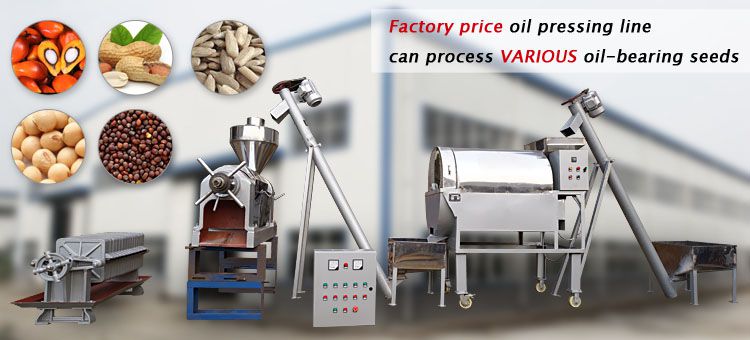 Small Size Peanut Oil Processing Line
As you all know, peanut oil press is made up by different kinds of accessories, the maintenance and operation of main parts and other accessories, in the process of daily maintenance, should be very careful. As the saying goes, a small leak will sink a great ship. If there are some wrong in details, it will bring great troubles in the oil extraction process. Therefore, the daily maintenance of both the main parts and accessories, all need to do it, then, you can get a well-worked peanut oil press machine.
If you to know detailed maintenance tips, please contact us directly, then our technical engineers will offer you all the information you need!
Request a Quote
We receive enquiries in English, Español (Spanish), Русский язык (Russian), Français (French) and العربية (Arabic).Our professional team will reply to you within one business day.Please feel free to contact us!